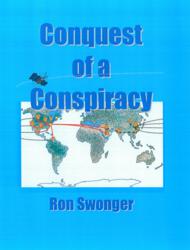 This is a really fun read - an exciting story with believable characters who don't have to be super-human to be interesting and heroic. The technology is spot on,
Saline, MI (PRWEB) May 26, 2012
A severe threat to world stability and the balance of power is increasingly imposed by global competition for the most critical resources that enable the growth and standards of living of nations. "Conquest of a Conspiracy", a novel by Ron Swonger, dramatizes this threat and how it could be fought. http://www.AuthorRonSwonger.com
Nothing can stop the global competitive struggle among nations for resources from increasing rapidly in intensity. This threat has largely been ignored by the public, by government officials, and by many in the media. But the magnitude and complexity of threat is now being dramatized and highlighted in "Conquest of a Conspiracy". Published by BookLocker.com, and distributed this week through all of the major booksellers and Ebook channels, this novel portrays one highly credible, albeit specifically fictional, scenario that warrants the serious consideration of all thinking people who care about the course of world events and civilization in the coming decades.
In the early 21st century, the world faces a tsunami of threats as increasing shortages of the three essentials for life occur across the entire globe. The combination of unstoppable population explosion and world-wide drives for industrialization makes this contest inevitable. Competition of national populations, their governments, and ethnic groups spanning multiple nations, as well as non- government forms of terrorist and other rogue organizations, will almost inherently become more severe. Multi-faceted competition exists and is rapidly increasing world-wide for energy, fresh water, and food. These inherently spawn the secondary competitions for arable land, and not least, the lust for global power and influence.
In "Conquest of a Conspiracy", author Ron Swonger broaches one theoretical scenario for how one element of that competition could unfold soon through subterfuge and conspiracies and what kinds of responses might be conceived to counter behaviors of nations that violate the traditional rules of international conduct by which nations have been expected to abide.
Ron Swonger was a technical director for more than 4 decades of a series of advanced technology organizations supplying sensing and processing solutions for defense, intelligence, industrial and scientific applications. His experience has taken him into countries on every continent and has produced results addressing some of the most challenging requirements for extracting critical and sensitive information from complex data sources.