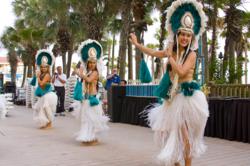 The Holiday Inn Resort is the #1 Family Resort on Panama City Beach, and because of that, we added a few Family Activities to the Kids' Activities Schedule a few days a week so the whole family can have fun together." Says Heather Troncale
Panama City Beach, FL (PRWEB) May 26, 2012
The Holiday Inn Resort Panama City Beach is well known for its family friendly atmosphere with great activities and entertainment starting mid-April and going all the way through Thanksgiving. The summer months, when the resort has its full schedule of daily activities and entertainment has always been the most fun, but this year the resort has a new Activities Manager who has reinvented the Kids' Activity Schedule with new activities - alongside the old favorites – to allow for more family togetherness as well as giving parents more time for themselves, and kids new and exciting ways to spend their time.
Heather Troncale joined the Holiday Inn Resort Team this spring bringing new life to the Kids Activities program at the resort. "We're excited about Heather joining our Resort Team this year! For the last two years our schedule hadn't changed much but this year she came up with some great new ideas and made some exciting changes to our Activities Schedule." Says Philip Colvin, Marketing Director at the Holiday Inn Resort.
"The Holiday Inn Resort is the #1 Family Resort on Panama City Beach, and because of that, we added a few Family Activities to the Kids' Activities Schedule a few days a week so the whole family can have fun together." Says Heather Troncale, Activities Manager at the Holiday Inn Resort. Throughout the week, families will gather on the beach for fun games such as Family Kick Ball and Family Capture the Beach Ball. While the resort promotes family togetherness, the team also realizes that parents and kids need a little time to themselves, so they've added an additional day for longer activities. "We now have four days each week where we do a Kids' Themed Lunch instead of three. We still have two days of the Pirate Themed Lunch, which we've always had, but this year we've changed our Carnival Themed Lunch to a Luau Themed Lunch and added a second day!" Says Troncale. During the Luau Lunch kids will actually learn to Hula from native Polynesian dancers! Themed lunches run for a full two hours allowing parents to have some time to enjoy a relaxed lunch, take a nap, or even enjoy a massage in the Ocean Front Day Spa. The resort also has four nights of Kids' Night Out, which could really be called "Parents' Date Night" as the resort team entertains the kids from 6:00pm to 9:00pm with pizza, movies, games, and more – allowing parents to have a romantic dinner, take a sunset walk on the beach, or a quiet beverage in the SunSet Lounge.
The Holiday Inn Resort strives to provide their guests with the best family vacation experience filled with fun activities and entertainment throughout the day, to see all the fun visit their website, http://www.hipcbeach.com and check out the activities schedule, entertainment schedule, and live web cams! For more information or to reserve one of the resort's money saving packages this summer call 800.633.0266.