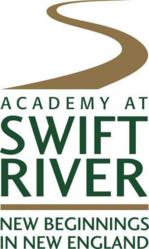 We are pleased to incorporate these new features to strengthen our legacy of helping families
Cummington, MA (PRWEB) May 29, 2012
Academy at Swift River, an accredited therapeutic boarding school for teens ages 13-17, has announced the incorporation of a new "Journey" program for its co-ed student population to enhance the school's existing clinical sophistication. The new program applies the principles of the evidenced-based Stages of Change Model, Dialectical Behavior Therapy (DBT) and Relational-Cultural Theory to create lasting change in students struggling with negative and self-defeating behaviors.
"Our Journey program honors the roots of Academy at Swift River and enhances our support of students and families," said Executive Director Paul Hickling. "We are pleased to incorporate these new features to strengthen our legacy of helping families."
The therapeutic philosophy at Academy at Swift River blends three theoretical perspectives: Stages of Change, which involves a student's readiness for change, Dialectical Behavioral Therapy which includes mindfulness, awareness, acceptance and compassion, and Relational-Cultural Theory, which supports building connection and authenticity in relationships.
The new Journey program specifically encourages skill-building, leadership, compassion, personal reflection and shared expectations. Each Journey defines expectations for student behaviors and progress in the areas of therapy, academics and residential life through the utilization of interpersonal effectiveness, distress tolerance, emotion regulation, mindfulness and self-management. The Journey system inspires students to take on leadership roles and community service; at the completion of the program, students will have accumulated 70 hours of community service that will appear on their high school transcripts. Importantly, each Journey outlines specific written and expressive assignments for completion, and builds in quantified expectations in the areas of academics, physical exercise, and community service.
"The goal for each student is to complete the requirements of all four Journeys," explained Sharon Hartunian, LICSW, LADC 1, CADC, and Clinical Director of the program. "Journey one is about awareness and pre-contemplation, Journey two is about acceptance and contemplation, Journey three is about balance and preparation, and Journey four is about compassion and action. As they move from one Journey to the next, students will move forward with integrating positive changes in their lives, implementing functional coping skills, and demonstrating authentic, empathic connections with others through thoughtful communication and community service."
She continued, "What's unique about the Journey program is that we are honoring the traditions of ASR through the evidenced-based Stages of Change Model and adding DBT to incorporate functional skill training, positive behavior change, and acceptance. We're striving to develop growth-fostering relationships and connections throughout the school milieu, and to encourage each student to have power with as opposed to power over others in their lives."
"Our stated mission is to compassionately guide students and families on a journey of healing, self-discovery and growth," said Hickling. "I think now more than ever we're really hitting the mark."
For more information about Academy at Swift River and the Journey program, contact Mary Jo De Grandi, M.S., Director of Admissions, at 800-258-1770, ext. 102.
Located in the foothills of the Berkshire Mountains in Massachusetts, Academy at Swift River is an accredited therapeutic boarding school for teens ages 13-17. The program is focused on helping teens get back on track by restoring relationships, rediscovering academic success, and preparing them for the challenges of adolescence and young adulthood. Master's level counselors utilize therapeutic best practices grounded in established theories of human development and change. Students receive individualized assessments upon arrival and attend family workshops to test the skills learned during the program.
Academy at Swift River is a program of Aspen Education Group, the nation's leading provider of therapeutic education programs for teens and young adults. Aspen's services range from short-term intervention programs to residential treatment, and include a variety of therapeutic settings such as boarding schools, outdoor behavioral health (wilderness) programs and special needs summer camps, allowing professionals and families the opportunity to choose the best setting to meet a student's unique academic and emotional needs. Aspen is a member of CRC Health Group, the nation's largest chemical dependency and related behavioral health organization. Since 1995, CRC Health Group has been achieving successful outcomes for individuals and families.
###