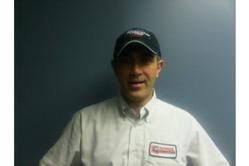 Tony Arujo is a true professional, beloved by his accounts.
Toronto, Ontario, Canada (PRWEB) May 24, 2012
Imperial Coffee and Services Inc. the industry leader in office coffee service in Ontario for more than 35 years, is pleased to announce that Tony Arujo, one of its Customer Service Representatives, has been honored for outstanding service by a leading vending and coffee industry trade publication.
Arujo was named quarterly driver of the year by Vendingmarketingwatch.com after an online nomination process that took into account everything from safety record to customer satisfaction. With more than 30 years of service, Arujo is also something of an iron man: he has missed fewer than five days of work during his long career.
"Tony Arujo has been our downtown customer service representative, looking after our largest and most prestigious customers for longer than we can remember ," Imperial Coffee and Services Inc. President Mark Steiner told Vendingmarketingwatch.com . "He is beloved by his accounts, and year after year receives the most customer accolades." Steiner called Arujo "a true professional" who is one of the first people in the office every morning.
Arujo faces some challenges, coping with heavy traffic in downtown Toronto and high-end Toronto customers. He told Vendingmarketingwatch.com that the independence of the job appeals to him most. "I'm by myself out there. I go at my own pace and do it how I want to do it."
Arujo has seen many changes in the coffee service industry. He started in the glass coffee pot era, but notes "now there's Flavia machines, K-Cups, and machines that grind the coffee beans right there. The technology has come a long way." Another change is providing one-stop shopping to customers by offering everything from soft drinks to cleaning supplies.
About Imperial Coffee
Imperial Coffee and Services Inc. is a family-owned coffee, vending and water supply company that serves workplaces with more than 15 employees. Founded in 1974, it has long been the market leader for office coffee services in Toronto and Ontario. Imperial Coffee and Services Inc. takes great pride in offering outstanding products and customer service and is equally proud that 52 of its 124 employees have been with the company for more than 10 years