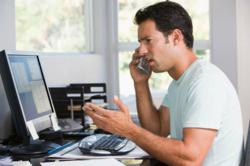 Technology is a beautiful thing but if business owners are intimidated by technology, this could extremely hinder their business.
Hollywood, Florida (PRWEB) May 26, 2012
Many business owners are intimidated by the recent advances in technology and their businesses are suffering because of it. Since many business owners are just now seeing the value that technology such as the internet and social media can have on any business, they are unaware of how to improve their net profit by using this unbelievable resource.
With this in mind, Markus Skupeika has created a business framework webinar to help these business owners get over the hump and help them make more money without doing more work.
The webinar will also show business owners how to leverage their staff to systematize any business that will also give business owners more time so that they can grow their business
without doing everything on their own.
"Now there is a business framework webinar that has been released to business owners who are serious about attracting more clients but without more work trying to get them. This business framework webinar will help business owners use internet marketing techniques to help them develop a systematic framework for their business and leverage your team of associates but also teach you how to use the internet to work for your business 24 hours a day 7 days a week. So if you are ready to attract more customers, make more money by doing less work than this business framework webinar is just for you. Just click on the button below to get started!
Read more at: dreamwareenterprise.com
A representative of DreamWareEnterprise.com states that Many business owners are stuck with their business not being able to grow and some business owners are losing out on some of the
key ingredients to improving their net worth using the technology that we have today.
Learn more about the Business Framework Webinar