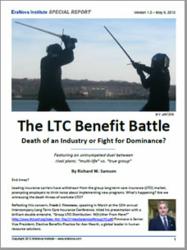 The report may be significant because it paints an well-documented bright picture for long-term care protection in American workplaces.
Mountain Lakes, NJ (PRWEB) May 24, 2012
Today EraNova Institute announces an agreement authorizing LTC Financial Partners, LLC (LTCFP) to distribute a special report on the future of long-term care insurance (LTCI) as an employee benefit. EraNova, publisher of the report, will allow LTCFP to provide PDF or print copies to selected employee benefit brokers, human resource managers, and heads of business and non-profit organizations. Titled "The LTC Benefit Battle," the document is based on interviews with leaders in the insurance, healthcare, and employee benefit fields.
The report may be significant because it paints an well-documented bright picture for long-term care protection in American workplaces. In addition, it answers questions about the viability of LTCI as an employee benefit.
Some carriers have withdrawn from the group LTCI market, fueling fears that the benefit might be losing favor. But the industry may be merely adjusting and regrouping, the report finds. It asserts that a struggle is going on between two types of the benefit, group LTCI and voluntary multi-life LTCI. Both appear to have a future but multi-life is positioned to expand greatly, according to the report.
With multi-life LTC insurance, there is no master policy as with the traditional group benefit. Individual policies are issued to each insured member, and there is usually greater flexibility in policy design. Multi-life is well-suited to today's fluid, fast-changing organizations. A program can be set up with as few as three employees or as many as tens of thousands.
The 12-page report sees a large market potential for multi-life based on its value to three constituencies. For employees it protects earning capacity as well as retirement assets. For employers it bolsters productivity of an aging workforce and helps retain the best talent. For Uncle Sam and the states it reduces reliance on Medicaid to pay for care.
Benefit brokers, human resource managers, executives and association directors may request complementary copies from any LTCFP representative.
The report is also available to members of the Long-Term Care Insurance Guild (a service of EraNova). It may be purchased at http://ltcguild.ning.com/page/ltcbb. Non-members may obtain a copy by first joining the Guild (no membership fee for qualified applicants).
A shortened version is scheduled to appear this summer in Employee Benefit Adviser, a leading trade journal for human resource and benefits decision makers as well as brokers, advisers and consultants.
LTC Financial Partners LLC – http://www.ltcfp.com -- is one of the nation's largest long-term care insurance agencies, offering LTC education and solutions for worksites as well as individuals. In California the company is known as LTC Partners & Insurance Services.
EraNova Institute --http:// http://www.eranova.com/ -- is a think tank specializing in business research and public relations.