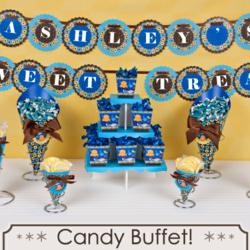 We offer a one-stop shop for all of the personal touches Hostess Heroes need to carry out a memorable event. - Jill Schultz, Creative & Branding Manager
Menomonie, WI (PRWEB) May 25, 2012
BigDotOfHappiness.com, creator of Big Dot Original party themes, ensures a remarkable event by offering themed candy buffets in 27 best-selling themes. Now Hostess Heroes can tailor each coordinating candy buffet to their party supplies, venue and number of guests, making the event unique and giving the guest of honor a one-of-a-kind celebration.
"Every Hostess Hero is busy with their day-to-day schedules but they still want to celebrate life's occasions in a special way, honoring baby showers and birthday parties of their loved ones," says Jill Schultz, Big Dot of Happiness' creative and branding manager. "Since shopping and crafting the details that make a celebration remarkable can be time-consuming, we offer a one-stop shop for all of the personal touches Hostess Heroes need to carry out a memorable event."
Candy buffets are quickly becoming a party planning staple, giving the guests a sweet spot to gather and delicious treats to take home afterward. Big Dot of Happiness' mix-and-match candy buffet tool will help Hostess Heroes easily structure their particular candy display to their event. Choices include Frooties Mini Tootsie Rolls in themed cones, pyramid cones offering fun Sticklettes and mini cones giving guests a selection of delicious Swirl Pops, all topped off with satin ribbon and hangtags, held up in chrome stands for the perfect display. Crafty Hostess Heroes can also shop candy in coordinating colors while empty candy boxes help to put their own touches on their candy display.
"We are known for keeping up with each party trend," says Schultz. "We make life's occasions fun and by giving our customers everything they need, planning any event is just as much fun as attending. That's what makes everyone a Hostess Hero."
About Big Dot of Happiness, LLC
Big Dot of Happiness, LLC, is an event party company and the originator of various games, invitations and themed party supply products called "Big Dot Originals." With personalized invitations, impressive party favors and unique party decorations, Big Dot of Happiness, LLC, makes everyday parties into extraordinary events. Making life's occasions fun. It's about time. "We create remarkable smiles by embracing a remarkable culture."
Find Big Dot of Happiness on Pinterest for Hostess Hero inspiration.
Contact:
PR Coordinator
Big Dot of Happiness, LLC
1.800.274.4282
http://www.bigdotofhappiness.com