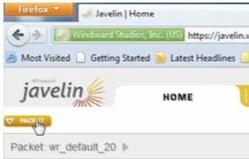 "Javelin BI is innovative in that it is a web-based business intelligence solution where reports are created in Microsoft Office," said Shirley Clawson, CEO of Windward.
Boulder, Colorado (PRWEB) May 24, 2012
Windward, the enterprise reporting, document generation and business intelligence software specialists, today announced the official release of Javelin BI. Javelin BI is a package of web-based business intelligence tools that enable business professionals to access, via any web browser, vital information that drives key business decisions.
Javelin BI is the fusion of two popular Windward products, AutoQuery and Javelin. The AutoQuery template design tool is a Microsoft Office add-in for creating ad hoc and drill down reports, and the platform-agnostic Javelin report and scheduling server allows for access and control from any application, regardless of programming language.
"Javelin BI is innovative in that it is a web-based business intelligence solution where reports are created in Microsoft Office," said Shirley Clawson, CEO of Windward. "This gives our customers unique ease of use in designing, running and scheduling ad hoc reports."
Key benefits of the Javelin BI solution are on-demand information and customized queries, where documents contain only relevant data giving users access to more specific data or ad hoc reporting in seconds. Employees and customers from across an organization can obtain up-to-the-minute reports from multiple locations with unmatched flexibility, since the tool is deployed locally and can be accessed anywhere with an internet connection.
Another noteworthy feature of the Javelin BI tool is its scheduler. Users can schedule reports to be created and run automatically, so they can generate documents and reports while they're working on other business tasks. The powerful report scheduler offers a wide range of options and timetables, allowing reports to be run daily, yearly, and anywhere in between.
In addition, Javelin BI offers the ability to generate reports in any programming language. Plus, it is implemented using a simple RESTful API that can be called from browsers and all major programming languages.
For more information on Javelin BI and Windward's web-based business intelligence tools, please visit http://www.windward.net/web-based-business-intelligence.php.
About Windward
Windward offers business intelligence, enterprise reporting, document generation and Web-based business intelligence solutions. Launched in 2002, Windward is the only full-featured, robust Java and .NET engine to use Microsoft Word, Excel and PowerPoint as a layout tool, putting template design and report and document generation power in the hands of the end user. Any Office user can easily and securely create reports and documents with almost no learning curve. Additionally, OEMs and VARs use Windward's reporting component.
Windward works by merging any XML, SQL or custom data source—or any combination thereof—with a Microsoft Office report template. It feeds data into the template to create a what-you-see-is-what-you-get report or document that can be generated in DOCX, XLSX, PPTX, PDF, HTML, direct to printer, RTF, XLS, WordML, TXT, and CSV. Windward runs as a standalone application or in an enterprise computing environment. Also unique, Windward implements in hours, offers affordable server-based pricing, and offers "prompt, fantastic" technical support via a 24/7 support forum and support contracts. A free trial of Windward's products is available at http://www.windward.net.
The Windward user group spans 70 countries. User applications include financial statements, inventory reports, product-usage reports, purchase orders, invoices, training certificates, timesheets, and licenses. Other applications include reporting to meet requirements of Sarbanes-Oxley, International Financial Reporting Standards, Patriot Act, ARRA, HIPAA, Health Level Seven, Gramm-Leach-Blailey, Basel II, and other U.S. and international acts and accords affecting financial services, real estate, government, and insurance industries and the consultants and integrators serving them.