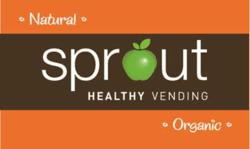 Irvine, California (PRWEB) May 29, 2012
Sprout Healthy Vending, a national leader in taking the vending industry in a healthy direction at work, school and in the community, welcomes its newest operator, Julie Friss, as she begins placing machines in and around her hometown of California. Julie is excited to educate her community on the benefits of healthy snacking.
Born and raised in San Jose, Julie says she has been an athlete since she was a young girl. As a fifth degree black belt and a group fitness instructor, health and wellness have always played a major role in her day-to-day life.
"I have been training in the martial arts for over 24 years and I have always maintained a healthy and fit lifestyle. I have taught fitness to both kids and adults who are searching for fun ways to stay in shape," Julie shares. "And now that I have kids, I want to make sure they are as equally excited and passionate about living a healthy and fit lifestyle."
Julie attributes her reason for joining Sprout to seeing a lack of nutritious choices not only in San Jose, but throughout the country. Julie states, "I have always been frustrated with the choices in a typical vending machine, while it's a convenient way to get something to snack on or drink, the choices are always so poor. I want to be able to provide wholesome snacks so people have better options and what better place to do that than in your community you grew up in where you know everyone can benefit?"
Having recently completed a vending machine training session down at Sprout Healthy Vending's headquarters, in Irvine, California, Julie says she is even more prepared to reach out to her community and spread the healthy Sprout word.
"Our experience with Sprout Healthy Vending has been amazing in every aspect. From the actual business model, to securing locations, to the training, Sprout is with you every step of the way. They have really made us feel welcome and part of the family. I feel 100% prepared now to share the Sprout program with my community knowing the company is behind me," Julie says.
After training, Julie also feels confident with the vending machines themselves and their state of the art technology and design. "The machines caught my interest first and foremost because of the amazing graphics on the outside. They aren't too busy or distracting. The colors pop just enough to be intriguing for someone to want to come up and look inside. Once you do, you notice the healthy unique products inside. And that is what kept my interest and what will keep many people's interest and create repeat customers," Julie explains.
"Being able to bring what I'm passionate about to my community is exactly what I've been looking for. To be surrounded by people who are a huge support system and always there to help you succeed, is a blessing," Julie says. "This is the perfect business opportunity for me and my family and I can't wait to watch it take off!"
Co-Founder Chris Wyland states, "As a gym enthusiast myself, I was able to connect with Julie immediately regarding her dedication to a healthier fit lifestyle. Combining her passion with her love for her community it will undoubtedly lead to a fulfilling business venture for her and her family."
About Sprout Healthy Vending
Sprout Healthy Vending provides state-of-the-art vending technology, thousands of healthy and organic products and turnkey customer solutions for regional operators. Currently, Sprout Healthy Vending has over 70 operators in 40 markets in the U.S. with 1,000 individual locations projected by the end of 2012. To learn more about the company, locations and products please visit http://www.sprouthealthyvending.com or call (800) 450-7648.