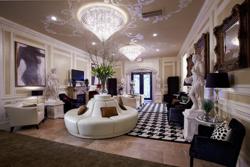 We are thrilled to introduce this level of plastic surgery in The Woodlands.
The Woodlands, Texas (PRWEB) May 30, 2012
In private practice since 1991, Thomas P. McHugh, M.D., is one of the country's leading experts in cosmetic surgery. Venerated from the pages of Glamour and Allure to the Hollywood red carpets, Dr. McHugh is bringing his in-depth knowledge of plastic surgery to Houston's Northern suburbs known as The Woodlands, TX.
McHugh Plastic Surgery has relocated from North Houston to a lavish new sanctuary at 26511 Interstate 45 North, The Woodlands, Texas. Along with an opulent makeover, McHugh Plastic Surgery has also relocated their in-house medical spa, Secret Expressions.
"I am elated to forge this continued partnership with Secret Expressions Medical Spa. It not only allows me to work alongside my wife, but it also enables the center to greatly expand its outreach to cosmetic surgery patients," Dr McHugh says. "We are thrilled to introduce this level of plastic surgery in The Woodlands."
Dr. McHugh specializes in an array of body-enhancing procedures, including breast augmentation, breast lifts, liposuction, tummy tuck, facelift, browlift and eyelid correction. He also provides a variety of light cosmetic procedures, including fillers and laser hair removal, the two most requested enhancements while also adding Cellulaze® laser cellulite reduction as their newest line-up.
In April, he appeared on the Great Day Houston "Mommy Makeover" special, where he explained a popular liposuction procedure that tightens the muscles and eradicates extra skin to help women regain their feminine form. A recent survey conducted by the American Society of Plastic Surgeons (ASPS) found that 62 percent of moms have considered cosmetic procedures to regain confidence in their bodies.
Full beauty treatments are also now available through the Secret Expressions Medical Spa. The exclusive, full-service oasis offers the lasted laser skin care and salon treatments along with relaxing massages and spa pampering. Katherine McHugh directs the plush spa, but Dr. McHugh is on hand to oversee medical cosmetic surgery procedures, such as Botox injections.
The chandelier-draped spa also features a luxury boutique that sells chic apparel for women and men along with swimsuits, billowing negligees and jewel-encrusted platforms.
The McHugh Plastic Surgery Center provides a comprehensive website to help consumers understand specific plastic surgery procedures. The website contains 40 animated 3D videos feature detailed explanations about body, breast, face and skin treatments. Patients can learn about how chemical peels rejuvenate the skin, review the various options available for facelifts or discover the critical differences between saline and silicone implants. Dr. McHugh also publishes the Modern Beauty Video Series, which includes a catalog of tutorials on smart liposuction, traditional liposuction, the tummy tuck and breast augmentation.
For more information, visit McHugh Plastic Surgery at http://www.tpMcHugh.com or Secret Expressions Medical Spa at http://www.SecretExpressionsMedSpa.com.
Call (281) 444-3733 to schedule a consultation or book an appointment with either Dr. McHugh or Katherine McHugh.
About McHugh Plastic Surgery
Opening its doors in Houston in 1991, the McHugh Plastic Surgery center has served thousands of patients seeking to transform their lives. Accredited by the American Society of Plastic Surgeons (ASPS), Dr. Thomas P. McHugh has served as the chief of plastic surgery and chief of surgery at the Houston Northwest Medical Center. He is on the medical advisory board for Allergan and Merz Aesthetics. The center's recent relocation and partnership with Secret Expressions Medical Spa brings premier plastic surgery services to The Woodlands.