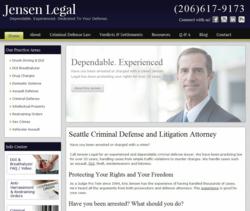 Seattle, WA (PRWEB) May 26, 2012
Kris Jensen of Jensen Legal, a criminal defense and litigation firm based in Seattle, Washington, has recently launched an updated website—jensenlegal.com. This site utilizes Wordpress, one the most popular content management systems available instead of static html pages. The intuitive navigational structure and attractive layout allows for ease of use for all visitors. It is fully responsive to fit any screen size including mobile phones and tablets.
The goal of the site is for those seeking professional help with their criminal defense to get all the information they need and to receive confirmation that they have come to the right place. Those who are in need of legal assistance can quickly get information on any number of criminal offenses such as drug charges, assault, DUI, etc. Client testimonials and videos on jensenlegal.com are available to learn more about his experience and successes with past cases.
Potential clients can also find information on various topics through the AVVO Attorney Q&A profile feature. Kris Jensen regularly posts answers to real life legal questions through avvo.com and these are easily accessed on the home page of his site.
Other features on his site include a blog, resources to help clients navigate through the legal system, social media links, and an information center on common questions regarding DUI's and the breathalyzer test, 5th amendment rights, and the benefits of having a professional defense.
Kris Jensen has been practicing criminal law for over 20 years and is an active member of the Washington Association of Criminal Defense Lawyers. He has been a public defender, King County Arbitration Arbitrator, Judge Pro Tempore, and criminal defense advocate. Since 1994 he has successfully handled thousands of cases in Washington State courts.