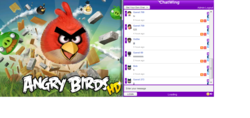 Los Angeles, CA (PRWEB) May 24, 2012
Angry birds has dominated mobile gaming ever since its first release, based on the numbers of users who actually bought the game. User reviews were also common, and some of them pointed out that Angry Birds is a game of skill where physics play a major part. Lately, projectile physics of Angry birds has been a common topic in a web chat box known as Chatwing. This application is known for its versatility and adaptability in over dozens of online communities.
Chatwing is all about the proper implementation of website chat. Its developers believe that website chatting is the key to effective online communication. Through efficient blog or website chat, people will now have access to different streams of information. Gamers have also benefited a lot from Chatwing because they gathered tips, cheats and walkthroughs. Adding to that, Chatwing chatrooms helped them to find more friends. In the case of Angry Birds, players are having a hard time accomplishing all levels because it deals with puzzles. Toppling the pigs in their abodes takes a lot skill and time.
Chatwing's versatile chatbox can also be installed in blogs and websites in under few seconds. After registration of the blog, the user can now proceed to the customization phase. Here, the user can modify the size, color, and title of the widget. This rate of customization has benefited a lot of bloggers because they were able to synchronize the appearance of their blogs with their widgets. Some bloggers have also observed that Chatwing has boosted the visibility of their blogs by more than sixty percent. Once the bloggers included beautiful content, the percentage has doubled. Chatwing does this by turning the blog into a chat lounge full of great topics to discover.
As a bonus, Chatwing users can log in with their Facebook or Twitter accounts. This makes the Chatwing shout box an efficient choice in any social connecting process. This is another reason why a lot of entrepreneurs have been using Chatwing lately.
About Chatwing.com
Chatwing.com has developed live chat shoutbox for websites and blogs. It caters to different online communities due to its high rate of connectivity. Everyone can create a customizable live chat feature in 1 minute or less. Users have the ability to customize the size, color, and fonts of the chat product. The ability to chat via social media accounts such as Facebook and Twitter enable Chatwing to offer a personal and unique real-time experience to all sites. Chatwing is 100% free and very easy to use.