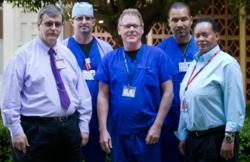 "As a nurse, I often ask patients about their service and personally thank them," says Greg Hoovler. "This communication enriches the hospital experience for both caregiver and patient."
STANFORD, Calif. (PRWEB) May 26, 2012
Beginning Memorial Day, all Stanford Hospital & Clinics patients and employees who identify themselves as U.S. veterans will be offered a red, white and blue wristband in recognition of their military service.
The keepsake will be inscribed with the words: "Stanford Hospital & Clinics Honors U.S. Military Veterans."
"This is just one small way in which we can thank veterans for their service and sacrifice," said Nancy Lee, Chief Nursing Officer and VP Patient Care Services. "We hope the wristband will encourage conversations between patients and caregivers. It's important that we honor and thank veterans for all they have done for our country."
The new program to honor veterans was the brainchild of Greg Hoovler, RN, who works in Stanford's Cath Angio Recovery Unit. He thought of the idea on Veteran's Day 2011, when it struck him that the hospital had no way of honoring patients and employees who had served in the U.S. military. "It also occurred to me that instead of recognizing these men and women for their sacrifices just one day a year, why not make this a daily practice?" he said.
"As a nurse, I often ask patients about their service and personally thank them," he added. "I find that for many, they are grateful that we ask and proud when they have an opportunity to talk about their military service. For our older veterans, this dialogue is often very therapeutic and creates a bond with the caregiver. This communication enriches the hospital experience for both caregiver and patient."
About Stanford Hospital & Clinics
Stanford Hospital & Clinics is known worldwide for advanced treatment of complex disorders in areas such as cardiovascular care, cancer treatment, neurosciences, surgery, and organ transplants. It is currently ranked No. 17 on the U.S. News & World Report's "America's Best Hospitals" list and No. 1 in the San Jose Metropolitan area. Stanford Hospital & Clinics is internationally recognized for translating medical breakthroughs into the care of patients. The Stanford University Medical Center is comprised of three world renowned institutions: Stanford Hospital & Clinics, the Stanford University School of Medicine, the oldest medical school in the Western United States, and Lucile Packard Children's Hospital, an adjacent pediatric and obstetric teaching hospital providing general acute and tertiary care. For more information, visit http://stanfordhospital.org/.