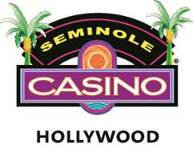 "He said he wanted to meet all of his fans here, and trust me there are a lot of them! We're all very excited; there's definitely a huge buzz about him coming!" said Michael J. Broderick
Hollywood, FL (PRWEB) May 24, 2012
Having just opened his new restaurant, Flavor Flav's House of Flavor, in Las Vegas, rapper and television personality Flavor Flav will visit Seminole Casino Hollywood on Saturday, June 16 from 5 - 8 p.m. for a free fan meet and greet.
Group passes will be issued starting at 4 p.m. for Seminole Player's Club members to have their photo taken with Flav, plus get his personal autograph on a casino- provided photograph. Joining the club is free, fast and easy, and all members will be eligible to win a 2012 Mustang coupe. The meet and greet will take place in the smoke-free event pavilion; must be 21 or older. The celebrity restaurateur's fried chicken will even be featured on the casino's buffet that day.
Born William Jonathan Drayton, Jr. in Roosevelt, Long Island, NY, Flavor Flav rose to fame in 1982 with the controversial hip-hop group, Public Enemy. He's been credited with popularizing the role of the "hype man" who punctuates key lyrics and shout outs for audience participation. In Public Enemy, Flav is the back-up to Chuck D. A new CD is expected in August.
Though known for his outlandishness -- including wearing a large clock around his neck, flashing gold teeth, and starring in several VH1 reality shows (The Surreal Life, Strange Love and Flavor of Love) -- Flav was a young musical prodigy. He taught himself piano at five years old, sang in his family church youth choir and mastered numerous other instruments. In 2006, he recorded his first solo album, Flavor Flav – Hollywood.
"Flav and I have been friends for years, so he called when he heard I relocated to be marketing and promotions director at Seminole Casino Hollywood," said Michael J. Broderick. "He said he wanted to meet all of his fans here, and trust me there are a lot of them! We're all very excited; there's definitely a huge buzz about him coming!"
Added casino general manager, Adrian Fox, "When word got out that Flavor Flav would be visiting, we fielded more questions and calls than for any other past celebrity appearance here."
For more information, please call Seminole Casino Hollywood at 954-961-3220; 1-866-2-CASINO.
About Seminole Casino Hollywood
Seminole Casino Hollywood pioneered Indian gaming when it opened as the country's first large stakes bingo hall in 1979, eventually expanding with gaming machines and poker. It is now home to over 1,250 state-of-the-art slot machines such as Diamond Lotto, the Seminole exclusive Super 6 Lotto, and hot titles like Grease, Sex & the City, Wizard of Oz, Lord of the Rings, Wheel of Fortune and Monopoly; a non-smoking 10-table poker room featuring free drinks and no-limit high stakes games 24/7; table games including Three Card Poker, Spanish 21, Mini-Baccarat, War, Ultimate Texas Hold 'em and Pai Gow Poker and a high stakes bingo room. Seminole Casino Hollywood also features a full service bar, two delis, and an all-you-can-eat buffet restaurant open for breakfast, lunch and dinner. Seminole Casino Hollywood is located at 4150 North State Road 7, Hollywood FL 33021, just north of Miami and south of Interstate 595. For more information, please call 1-866-2CASINO or 954-961-3220 or visit http://www.seminolehollywoodcasino.com or http://www.facebook.com/SeminoleCasinoHollywood . Follow us on twitter at @SemCasinoHolly .
# # #