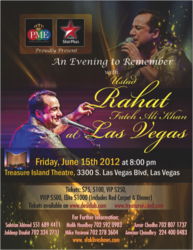 New York, NY (PRWEB) May 26, 2012
World-renowned singer, Ustad Rahat Fateh Ali Khan, will be performing live in concert at the Treasure Island Theatre in Las Vegas on Friday, June 15th at 8:00pm. Ustad Rahat Fateh Ali Khan, the very popular Pakistani singer with many Bollywood hits, and nephew of the late Ustad Nusrat Fateh Ali Khan, has been traveling throughout the U.S., Canada and the Caribbean as a part of his PME and Star Network promoted 2012 North American Concert Tour. By the conclusion of this sensational tour, he will have visited 21 cities in North America.
The spectacular 2012 North America concert tour kicked off in Fort. Lauderdale, Florida on April 14th, to an audience of over 2,000 adoring fans. This phenomenal first show set the bar for the rest of his tour in North America, which has been generating a huge public response. All of Ustad Rahat's shows have been immense successes that have gathered large, engrossed crowds to view his sold out shows. The Chicago and Dallas shows have both had over 4,000 devoted fans in attendance.
PME, Portfolio Marketing & Events LLC, is the promoter of the Rahat Fateh Ali Khan 2012 North American Tour. For more information on the Rahat Fateh Ali Khan concert tour, please visit http://www.rfakliveshows.com.