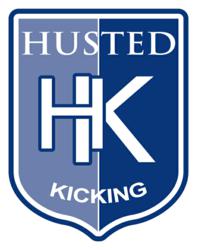 I've been lucky enough to work with Michael Husted, whom I not only consider
the best kicking coach available, but a good friend and mentor.
Minneapolis, Minnesota (PRWEB) May 24, 2012
Successful kickers in today's world have a few, but very necessary things: footballs, uprights, and usually a good kicking coach. While the number of kickers has continued to increase within the last decade, so has the amount of kicking coaches nationwide who excel at working with young talent.
Despite this, in the state of Minnesota, the idea of a kicking coach is still fairly foreign. In fact, most kickers that are looking to work with experts, or gain exposure have to travel about the country and attend camps that allow them to do just that. However, the land of 10,000 lakes may have found a solution to their growing, but sparse coaching situation, and he's right in the backyard.
Brady Beeson, an Apple Valley, Minnesota native who has been used to being under the "kicking radar" is currently in the process of pursuing his dream of kicking in the NFL, while coaching in the meantime. Beeson, who didn't kick in high school, was a three-year back up at St. John's University and finally got his shot after transferring to the University of St. Thomas. And he knows opportunity when he sees it.
In his one season as a starter at the University of St. Thomas, Beeson recorded 79 points, set three school records, and helped the Tommies reach an 11-2 season record, and the D3 national quarterfinals. In his final three games, Beeson finished strong by leading Division 3's kickers during the 2009 playoffs in points (27), and field goal percentage (100%).
Since then, Beeson has taken another challenge and dream to kick in the NFL. Having several tryouts and a short stint recently with the Chicago Slaughter of the IFL, Beeson is taking steps in the right direction.
Yet Beeson, like most free agents, must look for a means of income in order to keep the dream alive. That isn't easy when one expects to train and kick full time in order to be ready for that call. However, with his training came a love for coaching. With guidance of Michael Husted for the past year and a half, he has utilized the opportunity to work with a former NFL player and expert on the position.
"I've been lucky enough to work with Michael Husted, whom I not only consider the best kicking coach available, but good friend and mentor to me," Beeson said. "I decided I wanted to impact a kicker's life like Michael has done for mine, so why not do it back home?"
Besides the small number of kicking specialists in Minnesota, the ability to create one's success isn't unfamiliar to Beeson either. "Besides not kicking in high school, I never truly had a kicking expert work with me until I met Michael after my college career," Beeson stated. "So I figured, it's time to not only give local kickers an opportunity I never had, but also help get Minnesota in the national kicking spotlight. I love doing it, and it has never seemed like a job to me. It's a win-win."
In fact, this is why Beeson spent the entire past winter in San Diego training with Husted to not only better his own game, but also continue to develop as a coach, and student of the game. "I saw moving to Solana Beach as a valuable opportunity for multiple reasons, Beeson said. "Working with Michael three days a week obviously makes me a better kicker. But I also take everything from my own lessons as a player and put it into my coaching. Being on staff with Husted, and sharing the same philosophy makes it that much easier to apply it in my lessons."
As it turns out, good coaching can go a long way, even all the way up to Minnesota. Beeson will act as Husted Kicking's Minnesota Hub, bringing the same physical and mental training philosophy from San Diego up to the Twin Cities - Something that hasn't been available to many kickers in Minnesota thus far.
"I'm excited for this," Beeson said. "There is no greater feeling than watching someone you teach and work with get improve. The philosophy Michael preaches works. It has worked for me, and the guys I have been working up here are seeing the same results. I believe it is the beginning of something great up here."
Beeson will be available all summer to work with high school and college specialists throughout Minnesota, continuing to teach the Husted philosophy that has worked for him.
Click here to read Michael Husted's blog about No More Lonesome Kickers in Minnesota.
To learn more about Husted Kicking, visit HustedKicking.com.