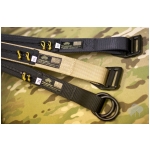 Our new Wilderness Money Belt is a product which really accentuates our tactical belt line. It offers consumers the functionality of our Instructor Belt with the covert ability to store valuables
Phoenix, AZ (PRWEB) May 25, 2012
Harkening back to the times when cowboys enforced the law with their trusted Colt revolver secured to their sturdy gun belt which also doubled as a method to store valuables, Wilderness Tactical has engineered a modern day version that would make even Wyatt Earp grin.
Often used by military, law enforcement and search and rescue across the country, Wilderness has set the standard for quality within the tactical belt market, proudly manufacturing all products in the U.S.A. As with previous new product introductions, the engineers at Wilderness Tactical have listened to the feedback of their loyal customer base and introduced a money belt which provides the same reliable service as their famed Original Instructor Belt which can be customized and configured to suit individual needs.
When ordering online or by phone, the new Wilderness Money Belt can be customized with the consumer's choice of buckles, colors, stiffness, width, and length. Designed to securely carry both paper money and coinage, the back of the belt features a flat zippered pocket which spans most of the belt's length—actual length will vary depending on length of belt. Available in Wilderness' Easy Fit or Regular fit, the belt can be customized for stiffness by selecting either a three stitch or five stitch configuration as well as widths from 1 1/4" up to 1 3/4'". Further personalize your money belt by selecting your belt buckle with either standard steel, titanium or Frequent Flyer Delrin rings as well as choosing your favorite color: Black, Coyote or Wilderness OD.
"Our new Wilderness Money Belt is a product which really accentuates our tactical belt line. It offers consumers the functionality of our Instructor Belt with the covert ability to store valuables," explained Ralph Holzhaus, founder of Wilderness Tactical Products.
About Wilderness Tactical Products:
Wilderness Tactical Products, LLC was founded in 1981 to fill the needs of people who demanded durable, high-quality equipment. Their products have been tested from the icy mountain peaks of South America to the blistering Sonoran desert for more than 30 years and they have proven themselves time and again. Wilderness-branded products have consistently been favorites of serious outdoorspeople, mountain climbers, search and rescue, American Pistol Institute and Gunsite personnel, as well as armed military, intelligence, police, instruction and civilian professionals around the world. For additional information please call 1-800-775-5650 or visit http://www.TheWilderness.com
Business contact:
Sam Dezonia
602-242-4945
Media contact:
Jason W. Jantzen
Phoenix Marketing Associates
http://www.phoenixmarketingassociates.com
602-282-0202