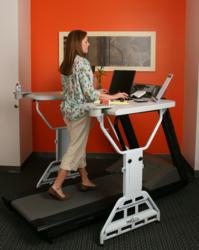 The health impact of obesity and inactivity is a global problem, a fact that surprises many Americans.
Scottsdale, AZ (PRWEB) May 24, 2012
Management Magazine is a monthly national publication in France covering all aspects of management from human resources to commercial law. Their upcoming July issue will focus on the impact of inactivity and obesity on French business and include an innovative tool recognized internationally as a potential solution: the TrekDesk Treadmill Desk.
"Due to the growing problem of obesity internationally TrekDesk has received press coverage on every continent with the exception of Antarctica," state Steve Bordley, CEO of TrekDesk Treadmill Desks. "The health impact of obesity and inactivity is a global problem, a fact that surprises many Americans."
But France? Although France has the lowest obesity levels in Europe, health experts realize there is nothing to gloat about. Obesity levels doubled in France from 1995 to 2004 to 11.3% of the population. 42% of the French are classified as overweight, America is approaching 70%.
Similar to America there are pockets of obesity where the rates are catastrophically higher.
Obesity in French children is accelerating at an even faster rate (17%) than among adults (6%). Health experts have predicted that France's obesity levels could rival that of the United States within eight years.
Designed to fit any existing treadmill, TrekDesk treadmill desk is an affordable, full sized, height adjustable workstation that allows individuals the opportunity to gain the necessary amount of exercise daily to maintain health, prevent disease, strengthen muscles, boost mood and productivity, without requiring additional time during the day or extra motivation. Wondering how to workout at work? TrekDesk offers the solution.
TrekDesk is currently available for sale online at http://www.trekdesk.com.
Join the TrekDesk "Movement Revolution" to learn more, win a free TrekDesk or ask any health related questions anytime at http://www.facebook.com/trekdesk, or follow TrekDesk on twitter http://www.twitter.com/trekdesk.