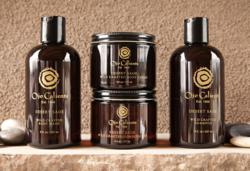 It was our intention, by using native plants indigenous to the area, to capture a 'sense of place' that is unique to Ojo and the high desert of Northern New Mexico." -Jen Scott, owner.
Ojo Caliente, NM (PRWEB) May 25, 2012
Ojo Caliente Mineral Springs Resort & Spa has recently introduced its natural and organic signature body care line, which features nine products of custom blended scents in either Desert Rain or Desert Sage, plus a shimmery Mica Creme. The two scents are derived from pure essential oils and wild-crafted herbs and plants indigenous to Northern New Mexico. All of the products are paraben-free, sulfate-free, 74%-93% organic, are not-tested on animals, and are free of toxic and synthetic chemical ingredients. The body creams are particularly beneficial for dry skin. The Ojo Caliente Signature Body Care products are now for sale in the Ojo Gift Shop and web store, with four of the products also being offered as amenities in Ojo's guest rooms. The amber retail bottles are made of PET, an environmentally and health-friendly inert plastic. The in-room amenities are delivered in stylish dispensers to avoid contributing disposable bottles to the landfill.
The Ojo Signature products have been developed with a Santa Fe master herbalist, using native plants, harvested by hand at optimal time, in sustainable fashion with respect to the land. The fresh, earthy Ojo line is meant to enhance the guests' therapeutic experience by harnessing the healing properties of these high desert plants. Guests can "bottle their experience," take it with them and re-connect to Ojo wherever they may be.
The Desert Sage and Desert Rain lines each include shampoo, conditioner, body wash and body cream. The star ingredient found in Ojo's Mica Creme is in fact mica—a glittery mineral harvested from the Mica Caves at Ojo. Native Americans were known to crush the Mica and adorn their bodies with the sparkling chips for sacred ceremony. Mica acts as a crystal and creates a barrier to protect the skin while magnifying and reflecting light. The Mica Creme adds a natural shimmer, which brightens overall tone and complexion and aids in regenerating the skin. Each product features the properties of different essential oils, herbs and plants; for example, the yucca root in Ojo's wild crafted shampoo has been used in the Southwest for centuries for its cleansing properties. Vitamins B & E enhance conditioning, while calendula softens your hair. The essential oils in the Desert Sage formula include pine needle for its purifying and decongestant qualities, and desert sage for its cleansing and antibacterial properties. The oils used in the Desert Rain Body Creme include cedarwood for its antiseptic and astringent qualities, geranium as an immune-stimulating tonic, and lavender for its antiviral and sedative qualities.
"The Ojo Signature Body Care was developed to complement the many natural elements that are part of Ojo, including the sacred waters and treasured land. It was our intention, by using native plants indigenous to the area, to capture a 'sense of place' that is unique to Ojo and the high desert of Northern New Mexico," said Jen Scott, owner.
"Both scents are being very well received by all of our guests, and the earthy Desert Sage line has been especially appealing to men," she added. She also mentioned Ojo's plan to take the line of products into the spa as amenities for day guests.
A full list of the carefully formulated ingredients of each product can be found at http://www.ojospa.com. The Desert Rain and Desert Sage products range in price from $17 to $23, and $40 for the Mica Creme.
###
The secluded sanctuary that is Ojo Caliente is tucked into a cottonwood dotted river valley just north of Santa Fe and just south of Taos, NM. Opened in 1868, Ojo is one of the oldest natural health resorts in the United States, and the only hot springs in the world with four unique, sulfur-free healing mineral waters: iron, arsenic, soda and lithia. Deemed sacred by the Native Pueblo tribes of Northern New Mexico, Ojo has been a gathering place for diverse groups for thousands of years.
Ojo is both historic and fresh with eclectic charm in a relaxed and tranquil environment. It boasts a rejuvenating full-service spa, utilizing a range of Native American- and East Indian-inspired therapies, which incorporate wild crafted and indigenous herbs, flowers and essential oils. The resort consists of 48 beautifully appointed New Mexico style lodging units, including enchanting suites, charming cottages, the Historic Hotel and private homes. The Artesian Restaurant serves up fresh, inventive, locally-influenced foods, as well as international dishes. Lighter fare, plus an extensive selection of local and imported wine and beer are available in the Wine Bar.
The resort property consists of 1100 acres for hiking, biking and bird watching, and is adjacent to thousands of acres of national forest and public land. Yoga classes are offered seven days a week.
For more information, please contact:
Jennifer Padilla
JLH Media
505 577 1347
jpadilla(at)jlhmedia(dot)com