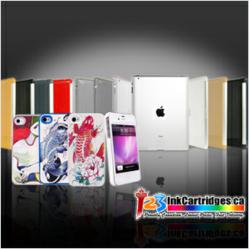 Montreal, Quebec (PRWEB) May 24, 2012
Canadian based online company 123inkcartridges.ca has been a long time provider of printer and computer supplies. They continue to offer products to customers at discounted prices. Product lines have recently been expanding to include a wide variety of computer based supplies and accessories including the Apple iPad screen protector.
123inkcartridges.ca has been one of the premier online suppliers of quality ink and toners for printers. Supplies are ordered through the online source and then shipped to locations which are in the United States or Canada. Recently the company has had to expand product lines to include various computer related products and accessories such as the latest addition: the Apple iPad 3 screen protector
The Montreal company is well equipped to handle customer demand. They presently have two separate offices as well as various storage facilities where they house a large inventory which is used to fulfill customer orders. They also have a full time online staff which is equipped and ready to handle all customer needs. They are dedicated to make each customer's experience a pleasant one. They are available online 24/7 to ensure that customers can find the products they are looking for. Recently the company has expanded their product lines and most recently the Apple iPad screen protector was added to their line of quality products. It is the company's intent to provide customers with quality products at reasonable prices.
Customers will find a wide variety of products such as iPad accessories at the online store: http://www.123inkcartridges.ca/accessories/iPad-2-Screen-Protectors-.html. Staff is available online 24/7 to assist customers while they are shopping.
About 123inkcartridges.ca
123inkcartridges.ca is an online supplier of various types of computer and printer related products. They began as a provider of inks and toners for printers. As computer use grew, the company began to expand their product lines to include various necessary accessories. The company operates out of two offices which are located in two different areas: Montreal and Vancouver. When the company was formed it was decided that they would always provide the highest quality product to customers at the lowest possible price.