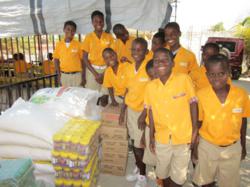 Fairfax, VA (PRWEB) May 25, 2012
NewsWatch recently aired a story about the lasting devastation in Haiti from the catastrophic earthquake on January 10th, 2010, and how one organization, The Children of Haiti Project, is helping the children affected by the earthquake receive a proper education.
With over 3 million people affected by the quake, the lasting effects were devastating. Children were especially hard-hit, particularly in a country where less than half of all children attend school. The massive destruction forced hundreds of thousands of people into open areas where they erected temporary tent homes constructed of little more than tarp, string and sticks. Two years later, these rudimentary structures are still home to more than half a million people where food, drinking water, and security are in short supply. For the children who live in the squalor and chaos of the tent camps, getting an education is a distant dream because there are no schools to go to.
In May 2010, The International Educator, together with a coalition of international schools and organizations, put together the Children of Haiti Project, or COHP, to support and educate 85 students near the Haitian Capital. The program provides children ages 5-13 a full formal educational program, five days a week in a safe, clean environment. Each day the children from the nearby tent city come to the little COHP School where they receive instruction, two meals, regular health care, and best of all -- hope for the future.
The Children of Haiti Project is fully run by donations, and although international schools around the world have been contributing to COHP, it is simply not enough. Each year, this little school in Port-au-Prince, has to begin the challenge of securing funding all over again just to keep its doors open.
Without COHP, these children would have no access to education, nutrition or medical care which their little school provides. For many of these children, the 2 meals they get at school are the only meals they receive all day. In order to continue supporting these youngsters, the Children of Haiti Project needs help from anyone willing to give. To make a donation, go to http://www.childrenofhaitiproject.org today and make a difference in a child's life.
NewsWatch is a weekly 30-minute consumer oriented television show that airs nationwide. NewsWatch regularly feature top celebrities, health tips, technology products, medical breakthroughs and entertainment news on the show. The show airs in 180 markets nationwide as well as all of the top 20 broadcast markets in the country, and is the preferred choice for Satellite Media Tour and Video News Release Distribution. For more information, head to newswatchtv.com