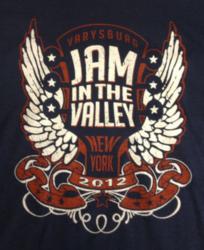 "If these brave men and women are willing to give their lives, are we willing to give our dollars
Elma, NY (PRWEB) May 25, 2012
Jam In The Valley has been going strong for years, and this summer's event won't disappoint with their biggest fireworks display and live performances. The Made In America Store presents Jam In The Valley 2012 and will be carrying the concert t-shirts for the event.
The Jam In The Valley 2012 t-shirts come in red, black, and grey, coming in two different styles. One style is to represent the 2012 event and another one to celebrate the Jam In The Valley event as a whole without the dates.
Consumers looking to get their Jam In The Valley 2012 t-shirts before the event can visit http://www.MadeInAmericaStore.com or call 716-652-4872 and talk to a Made In America Store representative to place an order.
Jam In The Valley first started as a small 4th of July event that entertained campers with a simple fireworks show. At the start, it only was displayed to a couple hundred people but grew to be something all of Western New Yorkers look forward to attending. Sonny Attea, the founder of Jam In The Valley, added something to the show every year, making it more extravagant. Throughout the years, Attea added patriotic music, light shows, fountains and a Statue of Liberty resulting in doubling the size of spectators with each addition.
One year, a stray firework had landed in the woods and started a fire, thus Attea had asked a local volunteer fire department to bring a fire truck to the event as a precaution. From that day forward an idea had formed to collect money as a fundraising event to benefit the local fire department and other charitable organizations and bring the donors a show.
Sonny Attea decided it was time to start something serious, Jam In The Valley. Crowds grew from 2,500 campers and fireworks show to a two day event with country singers and a firework show with over 10,000 campers.
The Jam In The Valley 2012 t-shirts are 100% American-made, right down to the stitching.
"If these brave men and women are willing to give their lives, are we willing to give our dollars?" Asks Brian Kahl, "Are we willing to buy our economic freedom back by buying American products first?"
This years Jam In The Valley lineup on July 6th (Friday) is Jerrod Neimann & Miranda Lambert. July 7th (Saturday) has Justin Moore and Lynyrd Skynyrd performing and is followed by the biggest fireworks show on the eastern coast.
The Made In America Store is located at 900 Maple Road in Elma, New York and is committed to selling 100% American manufactured products. You can visit http://www.MadeInAmericaStore.com for more information or shop our catalog of over 3,500 products from over 290 vendors that are devoted to producing USA made products. All US military personnel, both active duty and veterans, receive a discount every day. Consumers can also keep up to date news articles, events, photos and contests with Facebook, Twitter, Google+, Pinterest and Tumblr!