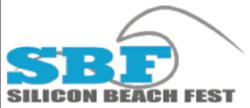 Silicon Beach Fest- celebrating LA's burgeoning tech-scene.
Los Angeles, CA (PRWEB) May 25, 2012
WHAT:
The Los Angeles Tech community is proud to announce the launch of the inaugural Silicon Beach Fest – a three-day festival celebrating the intersection between technology, startups, social media and entertainment within LA's burgeoning tech-scene. Concentrated in Santa Monica and Venice, and encompassing Hollywood, Downtown, Burbank and Pasadena; Silicon Beach is home to an exciting crop of tech-startups, thought-leaders, social media pioneers and entertainment companies who are building new business models and innovating communication and entertainment through technology.
Silicon Beach Fest will feature three days of compelling panel discussions with LA's tech leaders including Jason Nazar (DocStoc) and Howard Marks (StartEngine), thought-provoking keynotes, panels, developer debates, networking events, workshops, company demos, pitch contests, fundraising talks, student showcases, hackathon, cocktail mixers, musical performances and more.
WHO:
Silicon Beach Fest is created by Digital LA, Los Angeles' largest networking group, and organized with LA companies including: technology incubators / accelerators StartEngine, Amplify, and LaunchPad; social media marketing platform PromoJam; and LA's tech news organization TechZulu.
The festival will feature a variety of inspiring programming, talks and attendance by start-ups, VCs, CEOs, CMOs, studio executives, social media gurus, content creators, celebrities, agencies, brands, developers, and members of the local and national media.
WHEN:
June 21 – 23 2012
WHERE:
Silicon Beach Fest will be hosted at a collection of venues in Santa Monica and Venice Beach including: the Viceroy Hotel, Hotel Erwin, the Silicon Beach House, PromoJam, Cross Campus, Coloft, and in Hollywood at io/LA.
WEBSITE:
http://siliconbeachfest.com for schedule, sponsors, volunteers, and more info
CONNECT:
Twitter~ @SBFestLA #SBFEST, & Facebook
MEDIA INQUIRIES:
Kelley Coughlan at Melrose PR, kelley(at)melrosepr(dot)com, (310) 450-7960