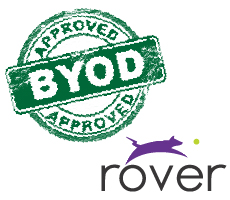 Empowering IT shops to satisfy remote users who want to conduct corporate communication on the same devices they use for personal communications.
Atlanta, GA (PRWEB) May 30, 2012
Rover Apps, a provider of solutions that securely connect personal mobile devices to corporate resources without VPNs, announced today its new Rover Apps Store and self-service, 30-day free trial program. IT professionals can now download the full Rover Apps at no charge for a test-drive, and self-subscribe for a very low monthly fee when ready to purchase.
In 2011, Rover Apps introduced its solution that gives IT professionals a private communications link that extends managed, secure intranet access to mobile users. Unlike VPNs, Rover Apps keeps all mobile devices off the network, giving them access only to specific resources. Because company information is isolated from other mobile device information and settings, users are free to use their devices for personal apps as well as corporate access. Rover Apps won immediate approval in the financial and medical markets by enabling cost-effective, bring your own device (BYOD) applications that require anytime, anywhere access to sensitive, centrally stored data.
Starting immediately, Rover Apps is available for self-service download at the Rover Apps Store, where users can try it free-of-charge for 30 days before committing to purchase. The full Rover Apps gateway installs in a quick process that includes choosing which intranet sites, documents and internally developed apps to extend to remote users. Those remote users then install a single app, which is actually a business-class managed browser, and can begin accessing corporate resources. Trial users can buy when ready at the Rover Apps Store, with pricing at $5 per month for each remote user.
"In introducing Rover Apps, we took an important step in empowering IT shops to satisfy remote users who want to conduct corporate communication on the same devices they use for personal communications," says Jonathan Foulkes, Rover Apps CEO. "The Rover Apps store adds another important degree of simplicity. Customers visit to download a free trial; once they've determined that Rover Apps meets their needs, they can self-subscribe to keep highly secure, controlled links operating for a very low monthly fee."
Rover Apps Uses
Rover Apps benefits the enterprise because employees are more productive when they can seamlessly access company information from the devices they carry at all times. With Rover Apps, mobile users can:

securely access any corporate intranet site
update critical information in line-of-business applications
access documents, including those subject to data privacy rules and regulations
use internally published mobile apps for optimized interaction
These capabilities come from a single app that keeps the company's information safe while providing policy enforcement at the application level, rather than forcing policy control on the entire device.
About Rover Apps
For companies competing in fast-moving industries that demand on-the-run responsiveness, Rover Apps securely extends multiple enterprise data sources to mobile users' smartphones and tablets. A full, enterprise-grade mobile platform, Rover meets the expectations of even the most demanding IT departments with respect to security, real-time integration between mobile devices and back-end systems, alignment with current workflows and ease of deployment within a scalable, centrally managed architecture. Rover's "build-once, deploy-to-many" platform is available direct from Rover and through select channel partners. For more information, visit roverapps.com.