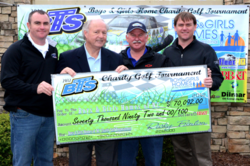 I am touched deeply by the efforts of Ricky and Dianne Benton, their family, their Black's Tire Service family and all their supporters. - Boys and Girls homes President/CEO Gary Faircloth
North Carolina (PRWEB) May 24, 2012
Black's Tire & Auto Service, a 32-location tire and full service auto shop in North and South Carolina raised $70,092 for Boys & Girls Homes of North Carolina.
Since 1954 Boys & Girls Homes of North Carolina has been a sanctuary for hurt children. Founder Mr. A.D. Peacock started the organization to help struggling families and young people who have been removed from their family due to abuse or neglect.
Black's Tire raises a record $70,092.00 at the 2012 BTS Charity Golf Tournament held on April 13, 2012 at Foxfire Golf and Resort. For over a decade, Black's Tire has been a big supporter of Boys and Girls Homes of NC. Ricky Benton, owner of Black's Tire and his wife Dianne Benton, have an understanding of the importance of strong parenting and a good home environment to children. They themselves have raised three boys who have become successful adults and are involved in the family business.
The 2012 Black's Tire Service Charity Golf Tournament was a charity to raise money for the Boys and Girls Homes of North Carolina. It was held at the Foxfire golf and Resort on Friday, April 13, 2012. Over one hundred twenty eight players participated in the tournament, along with the one hundred hole sponsorships and corporate sponsors. Over all, the entire charity event was a huge success breaking the record of raising seventy thousand and ninety-two dollars.
Over the many years the Benton's and Black's Tire Service have contributed more than $419,199.00 to the support of the children in the care of Boys and Girls Homes of North Carolina. Boys and Girls homes President/CEO Gary Faircloth, who lived at the Homes during his high school years stated "I am touched deeply by the efforts of Ricky and Dianne Benton, their family, their Black's Tire Service family and all their supporters. I am who I am today because of Boys and Girls Homes and I know how important the work of this agency is to the life of a child. Our children have awesome friends in the form of Black's Tire Service and I deeply appreciate the support, and encouragement, that comes from the gifts provided by Black's Tire Service. I extend a very deep and heartfelt thanks to everyone involved in these gifts to the children in our care."
About Black's Tire and Auto Service
Since 1929 Black's Tire and Auto Service has been a family owned and operated business serving the North and South Carolina communities with quality tires and excellent automotive services. With over 32 locations in North and South Carolina to better serve their community, tires Raleigh NC and tires Charlotte NC are just prime examples of the companies impact on the community. It's because of Black's Tires honest auto repair, excellent tire services, and their outstanding customer service, that customers keep returning.
To see what Black's Tire and Auto Service is all about visit them online at BlacksTire.com, 877-847-3748, or email at info(at)blackstire(dot)com
Black's Tire and Auto Service website was built and powered by Tire Company Solutions (TCS) located at 500s. Walnut Ave. Cookeville, Tennessee to contact visit their website at http://www.tcstire.com