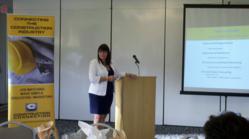 Anytime we help people find the right construction job or assist small construction business owners in marketing more effectively and hire the best people, we have done our job.
Miami, FL (PRWEB) May 29, 2012
Construction Connection, the growing online educational and networking resource for the construction industry, and SCORE, a national nonprofit dedicated to the growth of small businesses, recently co-sponsored a chapter meeting for the American Society of Professional Estimators. The event featured networking time for fifty construction industry professionals as well as a special presentation by Suzanne Breistol, a founding partner of Construction Connection.
As the founder of a construction industry network with 35,000 members, Breistol offered expert advice through her seminar, "Social and Business Networking – Employment and Your Next Job or Next Hire". Breistol's presentation outlined how construction companies and individuals in the construction industry can successfully use the Internet as a tool for marketing, employment matching, and networking.
Les O'Bryan, Vice President of President of Pre-Construction Services with Coastal Construction, attended the ASPE meeting and appreciated the clear and practical information presented by Construction Connection. In the past eighteen months, his company has interviewed dozens of quality construction job candidates using the Construction Connection hiring system. O'Bryan expressed appreciation for Construction Connection's specific approach to professions in the construction industry and their insight into online hiring.
Emill Noguera recently earned a Master's degree in Construction Management from Florida International University and is a member of the newly formed ASPE student chapter. As a construction job seeker, Noguera was impressed with the helpful information and extensive resources that Construction Connection offers. He even received personalized resume' tips from Breistol after the presentation, which he is confident will give him an edge as he finds the perfect construction job.
As a part of the overall goal of connecting and providing resources for the entire construction industry community, Construction Connection seeks out opportunities to support a variety of construction organizations. Breistol commented on the ASPE meeting as a great success: "Anytime we help people find the right construction job or assist small construction business owners in marketing more effectively and hire the best people, we have done our job." Construction Connection will continue supporting small businesses by partnering with SCORE at another event in May and launching Consulting Simplified©, a strategic planning service for construction businesses. Kent Leighton, co-founder of Construction Connection, is using his 40 years of construction experience to lead the Consulting Simplified team in appraising, evaluating, rehabilitating, and nurturing small construction companies.
Construction Connection was created out of a need for a more effective and streamlined way for construction industry professionals to get matched with the right industry jobs and with the right opportunities. The partners of Construction Connection, both industry professionals themselves, listened to both company and individuals' dissatisfaction with the traditional job boards, the paid resume blasts, the overpriced resume services and overall lack of sympathy toward the individual candidate. We also listened to the dissatisfaction from companies who post jobs only to get many irrelevant results or having to purchase high priced ads to showcase their company. Construction Connection is a patent-pending, one-of-a-kind profile creating / match-making system. The system delivers effective results. Construction Connection saves you time, money and aggravation by matching people to people, people to companies, companies to people, and company to company.