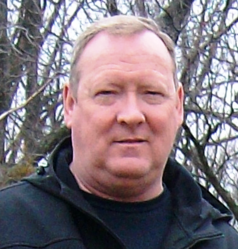 Bret's MBA gave him the skills and confidence to launch his own company after retiring from the Army.
St. Paul, Minn. (PRWEB) May 25, 2012
While leading convoys of armored HMMWVs through northern Kuwait to the Iraqi border several years ago, Sgt. 1st Class Bret Bussman (Ret.) saw the daily dangers of combat while putting his men into harm's way. For Bussman and the soldiers under his command, the fog of war was often impenetrable. Indeed, IEDs (Improvised Explosive Devices) could be buried anywhere or cloaked with clever camouflage. Fear from enemy ambush kept his team always vigilant.
Fast forward 20 years and civilian Bussman, no longer being shot at, is engaged in a conversation with his college professor Dr. Paul Brown, who teaches strategic planning and other business courses for the Minnesota School of Business's (MSB) MBA program. Bussman is a disabled veteran, but you wouldn't know it if you read his MBA capstone project, a business plan he hopes to turn into a million-dollar corporation selling training simulation services to the Department of Defense. The name of his business: Veterans Training the Force.
Capstone project turns into viable business plan
The simulator is called the RVTT, or Reconfigurable Vehicle Tactical Trainer. According to the Army, the RVTT consists of stationary HMMWVs that mimic actual field conditions using sound effects and realistic graphics. It's equipped with tactical radio, navigational systems and individual and crew-served weapons. Crew members use the equipment to train for convoy operations and weapons qualification such as the M2 machine guns. Fortunately, Bussman doesn't buy the expensive hardware; that's owned by the Army. His company develops and delivers the training protocols and software that drives the simulations.
If successful, Bussman's plan forecasts his company's first year of revenue at approximately $600,000, which could quickly grow to $5 million depending on how many contracts are won.
Bussman is unfettered by the odds of successfully launching his own business. He takes strength from motivational quotes like this one from Eleanor Roosevelt, which appeared in his proposal:
"You gain strength, courage and confidence by every experience in which you really stop to look fear in the face. You must do the thing you think you cannot do."
To be sure, compared to combat it's easy to see how Bussman is undeterred, even though his company will be competing against defense contractor behemoths like Raytheon, General Dynamics and CSC (Computer Sciences Corporation). However, the former Army sergeant holds in his hand a wildcard that makes his "fight" against the big guys decidedly fairer. The wildcard is Executive Order 13360. The EO, as they are called, was signed by President George W. Bush in October 2004. It orders that three percent of all government contracts be awarded to service-connected, disabled veteran-owned businesses. This kind of an advantage is often referred to by military people as a "force multiplier."
Bussman has navigated the rivers of red tape (mostly licenses and certifications) necessary to compete for the contracts and has formally established himself as the CEO of his fledgling enterprise. That's something Bussman's MBA project advisor and MSB graduate faculty member Dr. Brown was instrumental in doing. Brown is ebullient when he discusses Bussman's business plan. "The numbers are phenomenal," Brown exclaimed, " [Bussman will] be netting $22,000-$25,000 per month."
Brown trains everyone in his business-plan class to read and understand financial statements, often the most critical determinant of a start-up receiving bank financing. With an average online class size of five to eight students, Bussman liked that his program instructors were nearly always accessible, an advantage of a smaller, family-owned school.
By the time Bussman left the Army and a career in field artillery and logistics, he had already earned his bachelor's degree attending night school. The problem was, he said, "It did not teach me how to start a business." Bussman felt that an MBA would give him the skills to launch his own business and provide potential customers and investors with the confidence that he has the "right stuff" to grow and run a company with a few hundred employees.
Bussman began his MBA journey while working as an operations manager for CSC, still his employer. The irony of potentially going up against giant CSC in future government procurements isn't lost on Bussman. After all, CSC paid his MBA tuition. But, he observes the size of the pie for simulation contracts is massive—$8.75 billion. "I'll settle for just a tiny piece of that," he laughed.
About The Globe Network of Career Colleges
The Globe network is a premier, family-managed system of career colleges and universities—including Globe University and Minnesota School of Business—and training centers based in Woodbury, Minn. These specialty skills colleges prepare work-ready professionals for successful careers in a wide range of high-demand fields. Through its mission, We Care, the organization integrates hands-on and career-focused education with service- and applied-learning experiences that expose students to their communities and real-world situations. Programs offer undergraduate, diploma, graduate degrees and online college degrees in a wide range of career fields, including business and accounting, health sciences, legal sciences, technology, creative media and applied arts. The schools have more than 30 online degree programs. All academic programs are accredited by the Accrediting Council for Independent Colleges and Schools (ACICS). For more information, visit http://www.msbcollege.edu.