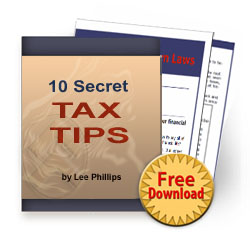 Since Reagan, Americans have gotten used to historically low tax rates. The party is over, and everybody that works for a living will be begging for lower taxes and looking for every tax tip available
Orem, UT (PRWEB) May 29, 2012
Did you see Hollywood superstar, Will Smith, lose it in his French television interview a few weeks ago? He was eloquently promoting Obama's "the rich need to pay their fair share" doctrine of federal income taxes when he got broadsided. His view suddenly changed, and it's obvious he will be hunting for tax tips next year.
After Smith's on camera promotion of Obama's federal income tax increases for the rich, the French interviewer asked if he thought the 75 percent tax rate, proposed by socialist French President-elect Francois Hollande, would be ok in America, as reported by Business Insider's Alex Biles.
It is obvious from Smith's reaction that he had never put a number, at least not a 75 percent number, on his thoughts about what his fair share would be. Smith became very animated and said, "Seventy-five percent?! Yeah that's different, that different... Seventy-five? Well, you know, God bless America."
According to Biles, "Smith was shocked silly by the suggestion of a 75 percent tax rate on those earning above €1 million annually."
"People are ignorant of exactly what is coming in new tax laws next year," explains Lee R. Phillips, attorney and national lecturer. "The federal income tax increases will bring the rich and middle class Americans to their knees," he said.
Phillips has just launched a training called "Advanced Tax Tactics" which identifies several ways a tax payer could save thousands of dollars in federal income taxes each year. It goes through a dozen or more tax planning techniques small business owners and others can use to implement conservative tax planning techniques.
Learn more about these strategies here
"These are tax planning techniques any taxpayer can use to take advantage of federal tax deductions. Maybe even Will Smith will start paying attention to tax deductions rather than promoting federal income tax increases," Phillips pointed out.
Senator John Barrasso (R WY) said, in an interview on May 20th, that taxes will go up on every American worker, period, on January 1st. "Those who advocate for the rich to pay their fair share, may not be aware of what is coming. Ordinary taxpayers have no clue what's coming," states Phillips.
The top tax rate has been above 75 percent for the majority of the nearly 100 years since the federal income tax was implemented. It has been as high as 92 percent at times.
"For the average middle class working American, the coming years will be a tax disaster, and they will be looking for every tax deduction they can get. That's why I have developed a quick free resource, Ten Tax Tips," Phillips said.
Get all the details on Lee's Tax Tips
"Since Reagan, Americans have gotten used to historically low tax rates. The party is over, and everybody who works for a living will be begging for lower taxes and looking for every tax tip available," he explained.