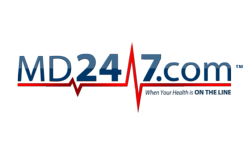 Visit us at http://www.md247.com!
Tampa Florida (PRWEB) May 24, 2012
Telemedicine provider MD247 wants people to consider - "Perhaps someone somewhere will create something so beautiful it will change the world." - Unknown
Telemedicine has a reputation for being viewed as dull, confusing or a mix of a ripoff and a scam wrapped in the language of fear. MD247 found itself less than satisfied that telemedicine was considered the black sheep of the medical profession, and has taken it upon itself to host a series of "Open Houses" to introduce telemedicine to regular people.
The family members and friends of the MD247 staff served as the "beta" test for the Open House program on May 24, 2012. Participants in the Open House were introduced to telemedicine, the benefits of telemedicine and the potential positive and life enhancing aspects that MD247 can equate to for an average family. The members of the MD247 telemedicine team conducting the information Open House used the opportunity to iron out some the presentation.
The telemedicine program available from MD247 is not a ripoff, a scam nor a supplementary medical program that is only available to the wealthy. The MD247 telemedicine program has the potential to enhance and change the lives of millions of people.
MD247 reminds all readers that the telemedicine program is unable to address medical emergency questions, and any/all such questions must be directed toward local immediate emergency assistance.
Largo Florida based MD247.COM (MD247; MD/247; MD 247; M.D.247; MD-247) provides an affordable telemedicine supplement to existing healthcare services. MD247.COM telemedicine program members have unlimited telephone access to a nationwide medical support team, all with just a single phone call to the MD247.COM telemedicine Talk to a Doctor/Talk to a Nurse Hotline. MD247.COM has a virtual platoon of registered nurses; board certified physicians and a support staff available to members for all non-emergency situations. More information about MD247.COM is available online at http://www.md247.com.