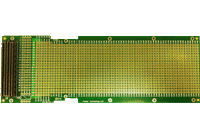 The FM-PLPC is the perfect companion for prototyping embedded systems with the Xilinx Zynq ZC702 and Kintex KC705 development boards
Katy, TX (PRWEB) May 25, 2012
Today, Faster Technology announces the release of the FM-PLPC, a development platform for FPGA Mezzanine Card Low Pin Count functions. The FM-PLPC is an FMC Prototype module which provides access to the complete LA bank of signals from the standard FMC Low Pin Count connector and the standard power rail and control signals.
As the number of FMC carrier cards grows, the need for a means to rapidly prototype applications increases. The FM-PLPC addresses this need by economically providing a significant amount of area arranged in a grid for soldering or wire-wrapping standard .1" spaced components and connectors . In addition, the outline for the standard single width Mezzanine module is printed in silkscreen which enables the FM-PLPC to easily be trimmed to standard FMC mechanical dimensions.
Key features of the FM-PLPC include:

Industry standard, modular FPGA I/O in an FPGA Mezzanine Card (VITA 57) module
FMC compliant with standard mounting holes and connector
Breakout of Low Pin Count connector pins to 0.1" development matrix
Standard FMC outline in silkscreen
Extended Ground rails and Power breakout for two power connections
Control signals available for user connections in development matrix
On board EEPROM footprint for configuration management and user data
"The FM-PLPC is the latest in our line of economical FMC cards," says John McCaskill, President of Faster Technology. "The FM-PLPC is the perfect companion for prototyping embedded systems with the Xilinx Zynq ZC702 and Kintex KC705 development boards."
About Faster Technology, LLC
Faster Technology, LLC develops high-performance Xilinx FPGA solutions that maximize processing throughput while minimizing latency. Targeted designs for the financial, defense, seismic and medical industries provide high performance computing at the very edge of the network connection. The company is a Xilinx Alliance Program Partner and offers custom design services.
Faster Technology is the Xilinx Authorized Training Provider for Texas, Oklahoma, Colorado, Wyoming, Montana, Arkansas and Louisiana and Utah. Courses include a wide range of options from the introductory level to the expert level. Topics covered include: FPGA design, embedded systems development, connectivity, DSP design and HDL languages. Visit the company website to view the complete list of Xilinx training courses.