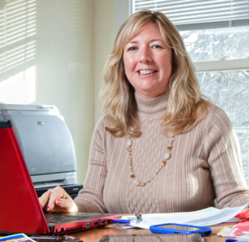 It is so important now for local businesses to be listed online so potential customers can find them.
Littleton, NH (PRWEB) May 25, 2012
Veronica Francis, President of Notchnet Web Services, is now a certified Local Internet Search Marketing Expert, bringing a higher level of Web marketing expertise to Notchnet's clients.
This spring, Francis participated in an interactive online Professional Local Search Training Course and completed a written exam to achieve the Local Search Marketing certification. Through the process, Veronica gained a thorough understanding of how to help local businesses improve their visibility on Internet search sites like Google and Bing, as well as online mapping systems like Google maps, especially when people are conducting online and mobile searches for businesses and services.
"With the growth of mobile phones and computer searches, many people do not use the phone book anymore," Francis said. "it is so important now for local businesses to be listed online so potential customers can find them."
Notchnet is now offering Local Internet Search Marketing services. The services include local search assessments to target which online directories businesses should be listed on to attract more customers, how to garner customer reviews to help improve Internet visibility, and methods for getting businesses listed with online directories.
One example of a local business that has already benefited from the new service provided by Notchnet is a local restaurant without a website. Using the tools and skills from the certification course, Francis was able to develop a "place page" for the restaurant, listing its hours, menu, phone number and address online. She also boosted its placement on smartphones and online search directories.
Francis started Notchnet in 1999 with her husband Charles as a website design and hosting business. The company has grown with the constant evolution of online technology and offers managed website and email hosting, web design, Search Engine Optimization (SEO), E-commerce solutions, and social media training and support – from Blogs to Facebook.
The company also now offers mobile marketing: designing pages to work with smartphones and tablets, orchestrating text messaging campaigns, and developing Quick Response Codes (QR Codes) for various uses. The Local Search Marketing Expert certification is the latest effort to keep up with the world of the web.
"Through this training and certification process, I've honed the skills needed to help local businesses develop a plan to get them to the top of the search engines and mobile phone searches," Francis said. Notchnet serves over 200 clients, mainly in New England, but reaching as far as Florida and California. For more information about the services provided by Notchnet, please visit the office at 149 West Main Street, Littleton or online at http://www.notchnet.com.