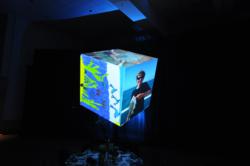 Driving audience engagements with compelling content is what it's all about.....
(PRWEB) May 29, 2012
As the saying goes…content is king…and marketers are faced with and continually striving to find new ways to engage consumer audiences. In turn, as audiences become more technology savvy and become accustomed to immediate stimulation, it becomes more important to engage them in diverse settings. This means designing visual and sensory environments that engage ever-shrinking attention spans by delivering messaging in new compelling ways.
These newer technologies are allowing marketers the ability to build differentiation within their market segments because their imagination is no longer bound by real-world reality. As the need for new interactive and experiential environments has increased – savvy brand marketers will look to 3D video mapping technologies to present content to drive brand messaging to engage target audiences like never before.
Video mapping is the use of software to map and replay media, such as video, on an array of 2D and 3D objects or fixtures. The great thing is that the objects or fixtures could be in any configuration since the screen doesn't have to be rectangular or even one complete surface. By integrating other technical elements and effects – you can even turn a space ship into a living room in seconds. That fact alone is why video and pixel mapping has become the tool of choice for brand builders in the know.
This is why Showcore Inc., a leading event design and production services company that works with brand marketers, has built a Visual Marketing Services division to develop interactive programs for brand product launches, live event promotions, and visual display marketing events. This area of the company will now engage with marketers to leverage visual engagement technologies to drive compelling outcomes and, more importantly, a return on investment.
"Driving audience engagements with compelling content is what it's all about and video pixel mapping allows us to deliver content in interactive settings that draw and keep consumers attention," stated John Bulver, Senior Technical Director at Showcore. "Watching people stop in their tracks to watch our creative design says it all and allows our customers to see quantifiable results. I guess you could say that our customers' imagination is our design reality…since we can make just about anything happen," added Bulver.
In that regard, Showcore recently designed a modular event that leveraged a video mapped set design for a Fortune 100 company to educate consumers on their new service platform. The video mapping drew customers into an engagement with the brand that could not have been done in the past. Furthermore, by integrating other technical elements, the event could take any audience member and project them into different scenes of the video event. The result was that audiences of up to 5,000 people watched and experienced compelling, realistic content related to the customers new brand strategy.
For more information on Showcore's video pixel mapping services, please visit Showcore's website on its' video marketing page at http://is.gd/Q1Yxli or call toll-free at 1-888-786-8228.
About Showcore
Showcore, Inc. is the leading event design & production services company that turns events into catalysts that drive excitement, innovation, and change. For over 20 years, Showcore has been providing specialized event services, turnkey event planning, event design, show logistics and unsurpassed execution for corporate, association and entertainment events anywhere in the U.S. and throughout the world.