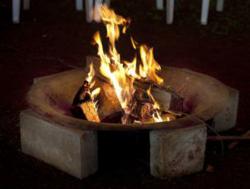 We stand for the sacred and interconnected nature of all life by gathering in community and reestablishing our relationship with the living world. - Eliot Cowan
Margaretville, NY (PRWEB) May 31, 2012
The Fireball is an all-ages, free event to join the center staff, elders and indigenous tradition holders as they honor supporters for their dedication to building lives of meaning and purpose.
Fireball begins at 1pm with a welcome ceremony led by Huichol and Nahuatl shamans to honor and celebrate Blue Deer Center's connection to the land where it resides.
Guests will also enjoy an earth ceremony hosted by Eda Zavala Lopez, a curendera and practitioner of traditional medicine from the Peruvian Rainforest and special fireside words from Blue Deer Founder and Plant Spirit Medicine author Eliot Cowan in the evening.
Entertainment is provided by the musical magic of Blue Paradox, the house dance band for the Blue Deer Center. Brought together and named by Grandfather Fire, this playful, diverse, shape-shifting and incredibly talented musical collective serves as musical ambassadors and traveling minstrels, helping to spread the joyful message of the Blue Deer Center and the Sacred Fire Community to a wider audience, through music, song, chanting, drumming and ecstatic dance.
Additional activities include a drumming circle, a silent art auction, guided tours question and answer sessions with Huichol and Nahuatl Shamans, and a potluck style dinner. It's recommended that attendees bring a favorite dish to share.
"We need to be a community, and we need to work together, supporting each other, respecting and loving—one another, Mother Earth, the forests, here, in Africa, in Asia and the Amazon jungle. We need to work together to make this better, little by little, piece by piece. We are all in this together." - Eda Zavala Lopex
For those traveling from outside the area, overnight lodging and camping is available for a nominal fee.
To maximize participant comfort at this free event, Blue Deer Center requests that you Register Here.
Blue Deer Center provides an important setting for teachings and practices that promote balanced relationship with the natural world. They particularly welcome ancestral approaches to healing, ritual, and retreat. The Center's origins are rooted in the Huichol shamanic tradition and living connection to the universal and sacred spirit of fire.
This year's sponsors include: Oxbury Sidewalk Festival, Greater Roxbury Learning Initiative Corporation, and WIOX.
For more information on the Blue Deer Center, visit their website at http://www.bluedeer.org or call 845-586-3225.