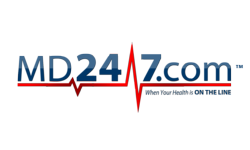 Visit our Facebook page.
Tampa Florida (PRWEB) May 24, 2012
MD247.COM Founder Thomas Meehan teased nationwide media on Thursday regarding the continuation of the first in a series of specials which are available exclusively on the MD247 telemedicine social media Facebook page.
The specials teased by Meehan have the official tag "Deal of the Day," and represent extreme savings that the discounted healthcare provider will be making available to new members. The extended first "Deal of the Day" is a ninety day (three month) membership in the MD247.COM telemedicine program for a fee of only $29.95, which is a total savings of 50% off of normal program prices. The telemedicine provider is making it possible for people seeking supplemental healthcare options to talk to a doctor for a significantly discounted rate, when compared to the $80.00(+) cash payment required when visiting an Urgent Care Clinic. Meehan indicated that the "Deal of the Day" was designed to put money back in the economy and, if that made it necessary for the MD247 telemedicine program to operate at a loss on the specials, then that was what the company would need to do.
The extended first MD247 "Deal of the Day" goes live again at http://www.facebook.com/md247dotcom on May 25th, and will only be available to interested parties who visit the Facebook page to retrieve the MD247 telemedicine sales hotline number. The telemedicine sales hotline number being provided on May 25th will differ from all other MD247 sales call lines, meaning it must be used in order to redeem the special pricing.
Largo Florida based MD247.COM (MD247; MD/247; MD 247; M.D.247; MD-247) provides an affordable telemedicine supplement to existing healthcare services. MD247.COM telemedicine program members have unlimited telephone access to a nationwide medical support team, all with just a single phone call to the MD247.COM telemedicine Talk to a Doctor/Talk to a Nurse Hotline. MD247.COM has a virtual platoon of registered nurses; board certified physicians and a support staff available to members for all non-emergency situations. More information about MD247.COM is available online at http://www.md247.com.