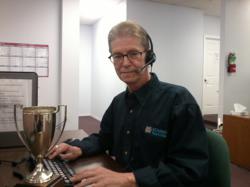 You can tell Phil genuinely cares about the people that he is speaking with
Spokane, WA (PRWEB) May 29, 2012
The prestigious Super-Agent Award is given monthly to the Sound Telecom call center employee with the highest call quality scores. April was the most competitive month on record for the Sound Telecom Super-Agent award. Sound Telecom produced four agents that had 97% or better quality scores for the month. Phil Visnaw was able to edge out the competition with an overall score of 98.65%. Sound Telecom's incentive program is designed to monitor and score individual calls to provide its customers the best customer service possible on each and every call. Since implementing this incentive program many years ago, Sound Telecom has seen regular and ongoing improvement in its agent quality scores. This monitoring program enables Sound Telecom call center agents to better serve clients and assures each of their calls answered by a professional, friendly, and courteous voice.
Phil has been with Sound Telecom since 2001. During his tenure he has received multiple 100% quality scores and many client compliments. Visnaw is extremely thorough, detailed and considerate. He exemplifies the Sound Telecom standard of Courteous, Professional and Friendly service. Phil's success can be attributed not only to his natural desire to provide exceptional customer service but also to Sound Telecom's call monitoring department. Sound Telecom's monitoring department was reorganized in 2008. The goal of reorganization was to develop a better way to proactively monitor calls in real time and get quality ratings and feedback to the agents in a timely manner. Sound Telecom regularly produces high-end quality service achievers.
During his tenure, Mr. Visnaw has been assigned multiple call center tasks and has never wavered in performing his duties with utmost attention to quality. James Rader, Operations Manager for Sound Telecom, says, "Phil is the epitome of a customer service representative. He is a very reliable agent and top-notch customer service representative. His dedication to providing superlative service for our clients provides a great example for other agents and sets the bar high." Phil is consistently chosen to be a "buddy" for new employees. A "buddy" is a more experienced call center agent that sits with a new agent. This program provides the new agent a mentor that can assist with any questions and difficult calls. It also helps new employees acclimate to the company and a very busy call environment and make necessary adjustments quickly. Tasha Miller, Accounts Manager for Sound Telecom says, "You can tell Phil genuinely cares about the people that he is speaking with. Whether it is a client, customer or another employee, Phil treats everyone with same caring attitude. It has been a pleasure working with him."
Phil's many years of service at Sound Telecom have taught him to be extremely thorough with callers and he is often commended for his outstanding call quality. Phil credits both the training and monitoring departments for his success and says, "Our monitoring department has been instrumental in finding areas that I could improve upon and our training team takes the time to go over each quality review with me personally. They show me how to implement these improvements and maintain my quality levels. Without these two departments, I would not be as successful."
About Sound Telecom
Sound Telecom is a leading provider of 24 hour Telephone Answering, Call Center and Unified Communication Services, headquartered in Seattle professionally serving thousands of customers throughout the United States and Canada with USA based agents. The twenty-five year old company has offices in Seattle and Spokane, Washington and Denver, Colorado. For more information, please visit http://www.sound-tele.com.
Contact Information
Sound Telecom
Michael L. LaBaw, President
800-577-1550
http://www.sound-tele.com