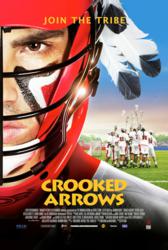 Creative and technical integrity, as well as attention to detail made their sound job a pleasurable experience.
Hollywood, CA. (PRWEB) May 30, 2012
Everyone wants to root for the underdog and fall in love with the story of a victory. Crooked Arrows is the film this spring to do just that... and no one has to be a lacrosse player to fall in love with this film!
Crooked Arrows, released in select theaters May 18, 2012 and opening nationwide June 1, 2012, is a riveting story that will touch the audience at their very core. It is a story about challenges, teamwork and triumph. As a first ever mainstream lacrosse film, Crooked Arrows centers on coach Joe Logan, Brandon Rough, who reluctantly leads a Native American high school team on their unlikely journey to the state championship against their prep school rivals. The film takes the audience through their journey of rediscovering the connection to the spiritual tradition of the ancient sport of lacrosse.
SonicPool Post Production had the opportunity to mix the sound for the film and it is one of the first films to be mixed in SonicPool's new THX theatrical stage. The director, Steve Rash said, "SonicPool has become a favorite of my favorite editor, and now it's a favorite of mine, too. Creative and technical integrity, as well as attention to detail made their sound job a pleasurable experience. I saw the movie in two AMC theaters the week of release, and it sounds EXACTLY like it did in the SonicPool mix stage."
John Frost, co-owner and lead audio engineer for SonicPool, said, "I really enjoyed working on the project and particularly with Steve Rash, the director. He has a great ear for pacing and is a real pro that I learned a lot from. Not to mention all I learned about the great sport of lacrosse!"
Click here to see the trailer .
SonicPool, founded in 2001 by two post production specialists Patrick Bird and John Frost, is located in Hollywood and is comprised of over 50 Offline Editing Suites, 8 Online Edit Suites, 1 THX Theatrical Stage, 3 Theatrical Mix stages, 7 Audio Editorial suites, production offices, machine room and Commercial quality 2D & 3D Blu-Ray, DVD Authoring Suites. The company's post production services include Sound and Picture Finishing, Main Title Creation, Edit Suite and Production Office rentals, and Deliverables.
contact: Caitlin Hassler | Caitlin(at)sonicpool(dot)com | 323. 460. 4649