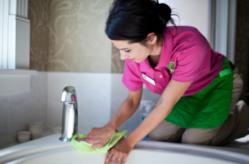 The motto of Better Life Maids is 'Your Life Maid Better' and I can't wait to starting making our clients lives Better in Jacksonville
Jacksonville, FL (PRWEB) May 28, 2012
Green house cleaning franchise Better Life Maids is opening one of several new locations this summer. Jacksonville Florida will see the Better Life Maids green house cleaning service June of 2012. Bill Mazer & Matt Henry, two local serial entrepreneurs are leveraging years of business experience and excellent customer service to bring Better Life Maids to Where Florida Begins. Better Life Maids uses the entire line of Better Life cleaning products that have been featured on The Today Show, Real Simple Magazine, Rachel Rea and much more. The Better Life Maids green house cleaning system is a fresh take on a traditional business model. Not only does the co-branded product line make Better Life Maids unique, but its use of technology to create an amazing customer experience is also one of a kind.
"I am really excited to bring Better Life Maids to Jacksonville," said Bill Mazer a Jacksonville local. "The Better Life products are amazing, and really do give people an alternative to harsh cleaning chemicals. Not only that, the Better Life Maids cleaning system uses no paper, and has minimal environmental footprint. I can't wait to show people what a Better Life Maids green house cleaning is all about."
Mazer continues to point out some of the other great benefits of using the Better Life Maids green house cleaning service including; zero exposure to toxic chemicals for clients and staff alike, cleaner water and air for the environment, and the elimination of paper waste in the cleaning process (nearly 4.5 billion pounds are currently consumed by professional cleaning services). "Another nice touch that Better Life Maids offers its clients includes our Dish Soap For Life program, that gives each client a bottle of Better Life natural dish soap and keeps it full as long as they stay our client.
"The motto of Better Life Maids is 'Your Life Maid Better' and I can't wait to starting making our clients lives Better in Jacksonville," said Mazer.
To find out more about Better Life Maids Jacksonville visit http://jacksonville.betterlifemaids.com
Better Life Maids is a green house cleaning service founded in St. Louis, MO. It has created a unique marketing partnership with Better Life a natural household cleaning products manufacturer. Together they are working to create the first national name brand in natural household cleaning products and green house cleaning services. Better Life Maids is expanding in select markets through a franchise development system. For more information visit http://www.betterlifemaids.com or http://www.cleanhappens.com.