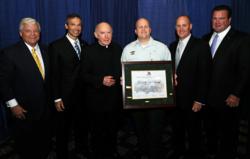 It takes a special person to understand the reason that we do what we do, and that reason is to serve.
Lafayette, LA (PRWEB) May 24, 2012
The Most Reverend Harry J. Flynn discussed the important role of paramedics as keynote speaker of Acadian Ambulance Service's Annual Paramedic Luncheon.
In front of 1,300 guests this Tuesday at the Lafayette Convention Center, Archbishop Flynn praised the emergency services profession stating, "Paramedics interact with people and their families at times of great crisis and vulnerability. And let me tell you this, yours is a noble vocation calling for enormous sacrifice for you and your families."
He went on to say, "The work you do needs to be done, and it is meeting the needs of the world."
The Paramedic Luncheon is held each year to honor Acadian's top medic voted upon by his or her peers. Senator Fred Mills, Jr. served as master of ceremonies while Acadian's Lead Medical Director Dr. Charles Burnell acknowledged all medics and presented the Paramedic of the Year Award to Chauvin native Garrett LeBoeuf.
"We are celebrating our medics today during National Emergency Medical Services Week," Burnell said. "This year's theme, is 'EMS: More than a job. A Calling.' We also honor today all within our EMS system that were called to bring safety to our communities-- the first responders, fire fighters, law enforcement and ER teams," he said.
LeBouef, a 10-year Acadian veteran, was selected for Critical Care Transport training in 2008 and currently functions as a full time CCT medic. He has been an Air Med alternate flight paramedic for the past four years and has worked as an auditor, National EMS Academy instructor and preceptor for new medics.
In his acceptance speech, LeBeouf spoke of what calls someone to be a medic. "EMS is not always a glorious job," he said. "It takes a special person to understand the reason that we do what we do, and that reason is to serve."
He also thanked his fellow EMS professionals, saying, "This title represents all of you; the men, the women of EMS that make this world a little safer and a little better to live in."Acadian CEO Richard Zuschlag, thanked LeBoeuf for his dedication and service.
He also reflected on how much Acadian had to be thankful for. "As I look across this room today I recognize how many blessings we have," he said. "Thanks to all of our friends, our employees and our families for sharing your lunch hour, for coming out today and for your continued support."
Acadian Ambulance Service has earned a reputation as the nation's largest and most respected privately held medical transportation company. Their growth, diversity, and commitment to excellence have garnered international acclaim and recognition by the U.S. Senate, Microsoft founder and author Bill Gates, Inc. magazine, and the Smithsonian Institution.
Since 1971, Acadian has been committed to providing the highest level of emergency medical care and transportation possible. In the past decade they have expanded to include a diverse suite of services designed to offer the very best support and education in health, safety, and transportation. Acadian's six divisions are Acadian Ambulance Service, Acadian Monitoring Services, Air Med, Executive Aircraft Charter Service, National EMS Academy and Safety Management Systems.
###