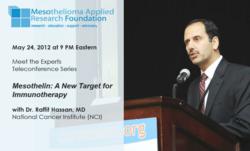 A recording of the call can be obtained by visiting the Meso Foundation's website at curemeso.org/meettheexperts.
Washington, DC (PRWEB) May 25, 2012
Last night, as part of the "Meet the Experts" podcasts presented exclusively by the Meso Foundation, Dr. Raffit Hassan, Senior Investigator and Chief of the Solid Tumor Immunotherapy Section in the Laboratory of Molecular Biology at the National Cancer Institute (NCI) and former Chair of the Meso Foundation's Science Advisory Board, sat down with Mary Hesdorffer, Nurse Practitioner and Medical Liaison for the Meso Foundation. They discussed his research into mesothelin and development of clinical trials using mesothelin as a target for epithelial malignant mesothelioma, which provide both pleural and peritoneal mesothelioma patients with the potential of much-needed new treatment options.
A recording of the call can be obtained by visiting the Meso Foundation's website at curemeso.org/meettheexperts. More information about the clinical trial is also available by contacting the interviewer, Mary Hesdorffer, NP.
In his talk, "Mesothelin: A New Target for Immunotherapy", Dr. Hassan discussed the novel therapies for the treatment of mesothelioma. Laboratory investigation, carried out by Dr. Ira Pastan, Dr. Hassan, and colleagues at the NCI, has demonstrated that mesothelin, a tumor antigen which was discovered at the NCI, is a useful target for tumor-specific therapy of malignant mesothelioma. Morab 009, a chimeric anti mesothelin monoclonal antibody, has completed a multi-center trial, the results of which will be presented at the Annual ASCO (American Society of Clinical Oncology) Meeting taking place in early June.
Mesothelin, as defined by MedicineNet.com, is a protein found on cell surfaces. Certain antibodies bind themselves to mesotheliomas and other tumors, so soluble mesothelin-related proteins (SMR) are used to identify mesothelioma patients and to monitor the cancer's progression of their disease. SMR concentrations tend to run higher with mesothelioma patients than patients battling other cancerous or pleural diseases, and SMR concentrations often correlate with tumor size and progression.
A 2011 recipient of the Meso Foundation's Pioneer Award for breakthroughs in mesothelioma research, Dr. Hassan has focused his own trials on targeting mesothelin as a potential treatment of patients with mesothelioma. Dr. Hassan's research began in the NCI laboratory and continues to this day.
About the Mesothelioma Applied Research Foundation (Meso Foundation)
The Meso Foundation is the leading organization dedicated to eradicating mesothelioma and easing the suffering caused by it. The Meso Foundation actively seeks philanthropic support to fund peer-reviewed mesothelioma research; provide patient support services and education; and advocate Congress for increased federal funding for mesothelioma research and increased awareness. The Foundation is the only organization that funds peer-reviewed research solely for mesothelioma to help find effective treatment options and a cure for the 3,000 Americans diagnosed each year.
The Meso Foundation is also the host and organizer of its annual Symposium on Malignant Mesothelioma, a two day conference for the entire mesothelioma community, including patients, medical experts, researchers and advocates. This year the conference takes place on July 12-13 in Washington, DC.
More information is available at http://www.curemeso.org.