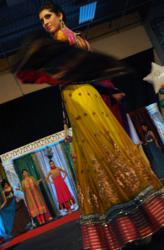 I am glad to be able to bring our latest designs from the ramp of the fashion shows to the community in our own backyard
(PRWEB) May 25, 2012
Designer Parna Ghose of Pure Elegance displayed spectacular South-Asian fashion during major Indian-American community events during spring 2012. The events included South Asian Bridal Exhibit in Washington DC, Miss India International – 2012 beauty pageant in New Jersey, and India Fair which is the largest community event in US east coast attended by over 25,000 people.
"I am honored to be invited to these prestigious community events. We are the ONLY South-Asian fashion brand from US to be invited to major international fashion shows like Dubai Fashion Week, Vancouver Fashion Week, and Washington DC Fashion Week" said Parna Ghose, President and Chief Designer of Pure Elegance. "I am glad to be able to bring our latest designs from the ramp of the fashion shows to the community in our own backyard," said Parna.
As the Indian diaspora has grown in size and affluence in North America, so have their needs. South-Asian fashion is distinct in its use of rich fabric, vibrant color, and centuries old tradition of intricate accent embroidery by master craftsmen. Modern, successful, South-Asian women are looking to make a statement about their individuality through fashion that is consistent with their traditional values yet contemporary to wow their friends. Indian-American designer, Parna Ghose, has made great strides in blending trends with tradition to make ethnic fashion relevant among international audience.
About Pure Elegance
Pure Elegance is a fashion brand created by designer Parna Ghose. Pure Elegance takes pride in its ethnic roots and creates a brand experience that is rich with cultural influences. It makes exquisite ethnic couture and ready-to-wear western designs for fashion-conscious women worldwide. The hallmark of their haute couture style is in its original designs, flawless craftsmanship, and innovative styling that brings out the individuality and exuberance through unique, unforgettable pieces. Since its inception, Pure Elegance has enjoyed huge loyal fan following and, with over 70,000 Fans on its Facebook page, it is the fastest growing brand for South-Asian fashion.