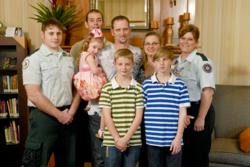 When we got there she was doing excellent CPR and that's mainly what saved his life. If she wouldn't have been doing the CPR properly we may have not had a chance.
(PRWEB) May 24, 2012
This week is National EMS Week, which recognizes and honors emergency professionals and their efforts to provide the best emergency care and to improve health communications in communities. However, everyone plays a part in EMS week, and it is imperative that citizens are encouraged to know basic lifesaving techniques in case the situation arises. Fortunately for Brendon Young, his wife had someone instructing her on what to do when an emergency arose, though many are not that lucky. At a reunion in Pineville, Louisiana, 36-year-old Young was able to meet the Acadian Ambulance medics and dispatchers who instructed his wife in hands-only CPR and helped save him after he suffered a heart attack.
Young was at home sleeping when his wife, Carrie, heard him making strange noises. When she realized that he had stopped breathing she called 911 and was transferred to Acadian Ambulance. Dispatcher Dacia Cramer assessed the situation by asking her questions and decided that the best course of action would be CPR; rightfully assuming that he was having a heart attack. Cramer gave Young lifesaving "hands only" CPR instructions so she could begin attempting to resuscitate her husband. Thanks to Cramer's directions and Young's diligence in properly administering CPR, when Acadian medics Tyler Martin and Nathaniel Russell arrived they were able to revive him with a defibrillator and advanced drugs.
"When we got there she was doing excellent CPR and that's mainly what saved his life," said Martin. "If she wouldn't have been doing the CPR properly we may have not had a chance."
Young's EKG was sent wirelessly from the ambulance to the hospital, so the cath lab and Dr. Robert Freedman were ready upon his arrival to perform surgery and the necessary life saving interventions.
Young's survival story is a perfect example of how, when implemented correctly, the "Chain of Survival" can help save lives. It is a series of actions or "links" that can reduce the mortality rate of cardiac arrest patients. The links are:
1. Making an emergency care call
2. Early CPR
3. Early defibrillation
4. Early advanced care by EMS and hospital personnel
Brendon, Carrie and their three children had a chance to meet and thank almost all involved in the Chain of Survival at the reunion in Pineville this spring.
"I'm still realizing today how many people were actually involved in saving my life," Brendon said. "I knew it was going to be real emotional and I was a little nervous coming up here but I'm thankful and glad to meet everybody."
Meritorious Awards were presented by Acadian Ambulance to Brendon's wife Carrie and the EMS responders for their life saving efforts including Acadian dispatchers Dacia Cramer and Eddie Bruce, medics Tyler Martin and Nathaniel Russell, Dr. Robert Freedman and Alexandria Fire Department firefighters.
Acadian Ambulance Service has earned a reputation as the nation's largest and most respected privately held medical transportation company. Their growth, diversity, and commitment to excellence have garnered international acclaim and recognition by the U.S. Senate, Microsoft founder and author Bill Gates, Inc. magazine, and the Smithsonian Institution.
Since 1971, Acadian has been committed to providing the highest level of emergency medical care and transportation possible. In the past decade they have expanded to include a diverse suite of services designed to offer the very best support and education in health, safety, and transportation. Acadian's six divisions are Acadian Ambulance Service, Acadian Monitoring Services, Air Med, Executive Aircraft Charter Service, National EMS Academy and Safety Management Systems.
###