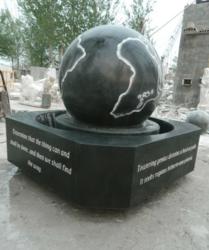 (PRWEB) May 29, 2012
Top Stone has the widest variety of Rolling Sphere Fountains seen on its http://www.topstone1.com website. Marble and Granite Rolling Spheres rotate on natural rock or circular/square solid bases as centerpieces for pool or grating system installations. Top Stone can also provide natural rock or circular or square bases are self-contained styles without the need for any pool or grating system. 100's of examples and videos can be seen on the Top Stone website.
A wide variety of spheres are also available ranging in size from 12 inches for residential to 6 foot diameter for commercial locations. Top Stone specializes in custom orders. Solid or veined marble and granite colors are available from all parts of the world combined with centerpiece or self-contained bases to provide unlimited design possibilities. Customers have ordered multitudes of design personalized etchings on the bases and/or spheres to recognize their libraries, city parks, universities, office complexes, etc. With every order new design ideas become realities.
Commercial designs up to 6 foot diameter spheres weighing 20,000 pounds can be carved smaller for personal residences with options for color, base colors and shapes. The most popular larger size is a 4 foot sphere. Top Stone also can provide technical assistance with drawings, turn key equipment delivery and onsite final supervision if needed. No order is too small or large for the Top Stone team of experts.
Many Larger projects now "single source" Top Stone fountains and equipment as the technology is unique. One single pump with one supply line can turn the world sphere on its axis or a sphere without the world axis normally turns end over end if left alone. Equipment can be placed close to the fountain, in a building, against a building, behind landscaping with multiple choices at limits exceeding 200 feet or more from the fountain. The possibilities are endless.
If you are planning a renovation, a new expansion or building a new home you may want to consider adding a Rolling Sphere Fountain as it may be the only interactive type water feature that is breathtaking to watch, minimizes blowing water in the wind, and can be safely played with even by children, Many are in hospitals and retirement homes for medicinal reasons.
Check out our website http://www.topstone1.com for inspirational ideas and feel free to call or email Top Stone at info@topstone1.com for direct pricing and details. We look forward to hearing from you soon.
Sports fountains for Baseball, Basketball, Soccer, Softball and Tennis for residential or Sports facilities are available and examples can be seen on our website for your review.