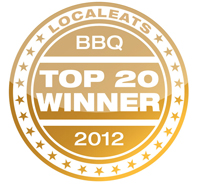 The winners of our top 20 barbecue restaurants not only serve outstanding barbecue, but are unique places for discerning diners, families, and barbecue connoisseurs alike
Nashville, TN (PRWEB) May 25, 2012
Memorial Day weekend is here and neighborhoods will soon be engulfed in the low smoke of backyard grills. Friends and loved ones will inevitably invite us over "to barbecue." But confusion sets in when one is only greeted by burgers and a few sad looking hot dogs. Where are the dry-rubbed ribs and pork shoulder sandwiches? Why would our neighbors misappropriate the good name of barbecue when they really mean, "grilling out."
At LocalEats® we take our barbecue (and barbecue terminology) seriously. To kick off the beginning of the 2012 summer season, we're pleased to announce the winners of our first annual 20 Best Barbecue Restaurants in America. This year's picks include a mix of both town and country and a variety of regional styles from the Carolinas to Texas, through Kansas City and Memphis and even up to Portland and Chicago. Be it wet or dry ribs, slow-smoked whole hog or brisket burnt ends, topped with mustard, vinegar or tomato-based sauces, if it's among the country's best barbecue, we've got it covered.
The winning selections represent the opinions of LocalEats' editorial staff, which has spent months researching, compiling and drawing from their personal experiences and collective barbecue obsession. LocalEats Editorial Director Pat Embry headed the selection committee and is excited about the final result. "The winners of our top 20 barbecue restaurants not only serve outstanding barbecue, but are unique places for discerning diners, families, and barbecue connoisseurs alike. Choosing the winners was not an easy task considering the outstanding quality of all our nominees, but we're confident it's a worthy representation of the very best barbecue restaurants in America."
View a slideshow of the 20 Best Barbecue Restaurants in America 2012.
LocalEats 20 Best Barbecue Restaurants in America for 2012:
(In alphabetical order)
17th Street BBQ - Murphrysboro, Marion, O'Fallon, and Sparta, IL
Angelo's Bar-B-Que - Fort Worth, TX
Arthur Bryant's Barbecue - Kansas City, MO & KS
The Bar-B-Q Shop - Memphis, TN
Bill Spoon's Barbecue - Charlotte, NC
Central BBQ - Memphis, TN
Clyde Cooper's Barbecue - Raleigh, NC
Fette Sau - Brooklyn, NY
Franklin Barbecue - Austin, TX
Oklahoma Joe's Barbecue - Kansas City and Olathe, KS
Kreuz Market - Lockhart, TX
Louie Mueller Barbecue - Taylor, TX
Podnah's Pit Barbecue - Portland, OR
Pappy's Smokehouse - St. Louis, MO
Scott's Bar-B-Q - Hemingway, SC
Scott's-Parker's Bar-B-Q - Lexington, TN
Slows Bar B Q - Detroit, MI
Smoque BBQ - Chicago, IL
Snow's BBQ - Lexington, TX
Wilber's Barbecue - Goldsboro, NC
View full story, including a list of "honorable mention" restaurants along with links to descriptions of winners
----
About LocalEats
LocalEats is a company dedicated to providing the best hand-curated restaurant guide in America. Founded in 1991, the company began as Magellan Press, Inc., an independent book publishing company which created a popular dining guide for travelers called Where the Locals Eat. In 2008, the guide went completely digital and was the top paid dining app in the App Store in 2010, according to iTunes. Today the LocalEats® iPhone and iPad apps and website are leading sources for the best regional dining information nationwide. More information is available at http://www.LocalEats.com.
The LocalEats app is free on the iPad and costs 99 cents to download on the iPhone. Listings are updated regularly without additional charge to the user. LocalEats.com features the same restaurant content as the app, as well as links to the nation's best dining blogs, local and national dining news, and the ability to find restaurants near popular U.S. landmarks. The app has received national recognition by The New York Times, Travel + Leisure, USA Today, Budget Travel, Business Week, Mashable, and CNET.
Contact: Pat Embry
Editorial Director
Magellan Press/LocalEats
615-263-7760
pat(dot)embry(at)localeats(dot)com