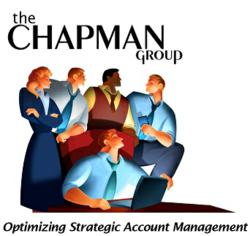 Columbia, MD (PRWEB) May 29, 2012
Dennis Chapman, founder and CEO of companies, The Chapman Group and LoyaltyPro.com, sales speaker, and board member for the Strategic Account Management Association (SAMA), announced the launch of The Chapman Group's new web-based training series now available on The Metrics Channel. The training is structured to provide access to executive-level intelligence for managing customer programs in B2B sales and key account management. The series is set to air weekly and is purposed on continuing the momentum that sales leaders' gain from workshops at industry events and addresses challenges faced by SAMA-certified account managers, KAMs (in key account management) and GAMs (in global account management). Viewers can tune in each week from any desktop or mobile device for valuable insights on how to maximize their organization's differential advantages.
Chapman, a SAMA practitioner and respected sales thought leader was a keynote speaker at this year's Annual SAMA Conference held in San Diego, California, May 6th - 9th, where over 400 sales and account management professionals were in attendance. He led two workshop sessions; Managing Customer Relationship Outcomes, a prerequisite course for SAMA certification, and Building Metrics-based Dashboards, presented to all conference attendees. From the conference he blogged, "One of the more important, yet challenging tasks for suppliers remains gaining relevancy at senior levels within their clients organizations." His discussions with sales executives outside of the workshop reinforced the motivation to develop an executive-track into a video series where account managers can access relevant training material 'on-demand'.
The first video in the series, Keys to Strategic Account Management: The Dashboard, which aired the week of the conference, elaborates on talking points from both workshops. Here, Chapman discusses the fundamentals of using metric-based dashboards to manage multiple organizational objectives with predictive analytics that present economic value to the total customer-supplier relationship in strategic account programs.
The Metrics Channel training videos will provide detailed insight on best practices for strategic account programs and solutions in developing sales, account management strategy and customer survey metrics. While leading The Chapman Group into its 24th year of business, Dennis is intent on educating from his experience working with clients and lending his expertise on maximizing the relationship between suppliers and their strategic customers. The weekly series covers real-world, metric-based solutions that corporations have gained from a direct partnership with The Chapman Group, and have been found to be the most beneficial in developing sales and customer management leadership. The Metrics Channel training series is recorded weekly from The Chapman Group's headquarters in Columbia, MD, and broadcast online with corresponding articles on the podcast topics on the Strategic Account Management blog.
Connect with Dennis Chapman on Linkedin
About The Chapman Group | ChapmanHQ.com
The Chapman Group is a leading Strategic Account Management (SAM) and sales effectiveness consulting firm. For over 20 years The Chapman Group has been assisting the world's most successful and respected organizations improve strategic account management and sales practices, resulting in billions of dollars of delivered economic ROI (Return on Investment).
About LoyaltyProfessional TM | LoyaltyPro.com
LoyaltyProfessional TM is a full-services Expert Resource Center (ERC) of The Chapman Group that gathers, measures, reports, analyzes and consults on customer feedback. By utilizing the proper blend of people, process, methodology, and technology, LoyaltyProfessional TM is a better way for your organization to measure the customer experience; facts, insights and action planning to create more loyal and committed customer relationships!
SAMA's Certified Strategic Account Manager (CSAM) | StrategicAccounts.org
The CSAM program establishes a professional standard of individual capabilities to successfully perform the role and responsibilities of a strategic account manager (SAM).