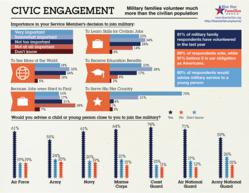 These results speak to military families' belief in service, in that their families are doing something amazing, and that even given the sacrifices they make, they think it is worth it in the end to serve their country.
Washington, DC (PRWEB) May 24, 2012
Blue Star Families announced remarkable information about the civic engagement of military families today. Blue Star Families' annual survey of more than 4,000 military families revealed that military families are engaged in civic and volunteer service at a significantly higher rate than the general population and that most support an all-volunteer force. The full survey report is available at http://bluestarfam.org/2012survey.
Among military families, 81 percent of respondents had volunteered in the last year. Among the general population, the rate of volunteerism is 26.8 percent (1). Impressively, ten percent of survey respondents volunteered over thirty hours a month.
The 2012 survey also revealed that military families vote at higher rates than the general population. Eighty-nine percent of survey respondents reported they are registered to vote and 82 percent report voting in the last Presidential election. In the 2008 election, only 64 percent of all voting-age citizens voted (2). Moreover, 91 percent of respondents believe it is an obligation as Americans to vote.
Other exciting findings were that 82 percent of respondents believe that the all-volunteer force has worked well and seventy-three percent support their service member's continued military service. Sixty percent would advise a young person close to them to join the military and seventy percent expressed satisfaction with the military lifestyle.
"We find these to be very positive and powerful findings," said Vivian Greentree, Ph.D., Director of Research and Policy. "Even after citing some substantial challenges and sacrifices associated with the military lifestyle, these families overwhelmingly supported continued service of their family member and would recommend military service to their own child or another close young person. It speaks to their belief in service, in that their families are doing something amazing, and that even given the sacrifices they make, they think it is worth it in the end to serve their country. The results of the survey in the area of community engagement show the true civic assets of the military community and the resilience that resides there."
About the Blue Star Families Military Family Lifestyle Surveys
Blue Star Families' research helps identify and explore the issues that face those who serve in the military and their families. Every survey provides valuable insight into the challenges of military family life, impacting policy development, and educating military leadership, government decision- makers and the general public on the challenges and stressors impacting today's military families.
The third consecutive survey fielded by Blue Star Families, the 2012 survey results details the many challenges faced by military families after more than a decade of continous war, and the ways families and service members are coping. The key concerns identified were: pay and benefits, with a specific emphasis on changes to retirement benefits; the effects of deployment on children; general operational tempo (OPTEMPO); military spouse employment; and issues surrounding Post Traumatic Stress (PTS), combat stress, and Traumatic Brain Injury (TBI).
Past survey results have been cited by the White House, the First Lady and Congressional members, as well as presented to the Department of Defense and joint sessions of the Senate and House Military Family Caucuses. Blue Star Families' 2012 Military Family Lifestyle Survey was made possible with the support of many organizations and interested groups, including Blue Shield of California Foundation, Care.com, Facebook, and the Leichtag Foundation.
About Blue Star Families
Blue Star Families is a national, nonprofit network of military families from all ranks and services, including guard and reserve, with a mission to support, connect and empower military families. In addition to morale and empowerment programs, Blue Star Families raises awareness of the challenges and strengths of military family life and works to make military life more sustainable. Membership includes military spouses, children and parents as well as service members, veterans and civilians. To learn more about Blue Star Families, visit http://www.bluestarfam.org. Join Blue Star Families on Twitter and Facebook.
Media Contact:
Stephanie Himel-Nelson
Stephanie(at)BlueStarFam(dot)org
703-472-6292
_______________________
1 Volunteering in the United States 2011, Bureau of Labor Statistics (February 22, 2012) http://www.bls.gov/news.release/volun.nr0.htm.
2 Voting and Registration in the Election of 2008, U.S. Census Bureau (May 2010) http://www.census.gov/prod/2010pubs/p20-562.pdf.