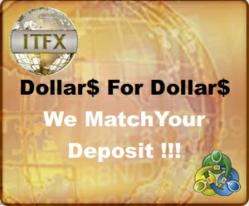 Hong Kong (PRWEB) May 24, 2012
InvestTechFX, one of the world's most dynamic and fastest growing forex ECN(electronic communication network) firms that is a No Dealing Desk offering Straight Through Processing in FX and Commodities such as Gold, Oil and Silver as well as CFDs, announces its client services fully operational 24 hours a day, five days a week. In its latest initiative to provide an expanding and innovative service offering to its clients, InvestTechFX launches a comprehensive set of services available around the clock to support clients during the complete lifecycle of their trading activity.
The services offered by InvestTechFX include a dedicated, 24-hour Trader Support Center, where you can receive technical help and market advice throughout the trading week (Mon-Fri). You will always be able to reach an experienced support person with a background in forex trading.
InvestTechFX recognizes the inherent value of up-to-date and relevant information; therefore we employ experienced analysts to provide you with accurate research and analysis, updated on a monthly basis.
InvestTechFX offers traders a full suite of platforms and products including; MT4, Desktop, Web and Mobile Applications. Since formation, InvestTechFX has utilized the experience of professional forex traders and specialists in order to successfully establish itself as one of the premier online trading companies operating in today's market. They offer a secure, dynamic trading platform which provides superior order execution, advanced reporting and analytical tools, yet remains intuitive and user-friendly.
The client support services on a 24/5 basis service will allow us to help our traders with any account query or request and provide operational staff from Back Office and Administration, to Customer Support, Technical and Sales around the clock. The objective is to provide industry leading, innovative customer service and this marks the latest evolution as we continue to strive to better serve our client needs.
24/5 services will include account opening and verification, and modifications to existing accounts, accounting (deposits and withdrawals and use of all payment methods), Customer Support (platform, trading and general enquiries, via Live Chat and Email, and Sales (support for new accounts registration, as well to help with newly registered clients). All clients have the opportunity to live chat or email in order to access the information they need 24 hours a day, five days a week.
InvestTechFX caters to a wide range of traders from around the world, placing equal importance on first time traders as we do on experienced professionals. We firmly believe in the value of building a relationship with each and every client, in order to better understand their needs. InvestTechFX has made every effort to ensure that all account activities not directly related to trading, such as deposits and withdrawals, are carried out with the greatest of ease and transparency, allowing you to get on with the task in hand: trading successfully!
When trading online with InvestTechFX, you will receive the following: Instant Deposit with Credit Card, Start Trading in Minutes, Fixed Spreads in All Markets, All the Time Extensive Product Range and Unparalleled 24-hour Trader Support. Trader can establish A Trading Account with as Little as $100 with no comprehensive Software Download Needed with a simple switch to InvestTechFX's live sever feed on their MT4.
InvestTechFX allows you to fund your account with your credit card, so you can start trading immediately. We care about protecting your credit card security as well as protecting your privacy to the highest standards. To achieve this, we use the latest technologies and comply with all relevant regulations. Please read our terms & conditions.
We offer clients a fixed dealing spread of 0.5 pips on EUR/USD and the Forex majors as well as variable rates on other exotic currency pairs. Other brokers claim to offer low pip spreads yet routinely widen the spreads up to 10 pips or more during fast moving markets or thinly traded markets, such as the Asian trading session.
With over 20 years in industry, the prestigious InvestTechFX group invites both expert and novice trading talent from all over the world to open accounts that offer the very best of interior products and services. The benefits and highlights of the holding an account with InvestTechFX are many including taking advantage of industry leading initiatives and promotions.
The world-renowned firm places among the top financial services companies that have been currently expanding their customer base in Asia-Pacific region. With offices in Hong Kong and around the World InvestTechFX has garnered clients praise everywhere as they vow to commit its resources to provide the best customer service and trading experience available to all clients.
InvestTechFX offers the Meta Trader 4 trading tool as a means to trade commodities such as Gold, Silver and Oil as well as all six major currencies on a 0.5 PIP to variable spreads on mini and standard accounts with ECN options.
InvestTechFX software solutions deals with the Forex Market offering specialized Money Manager, IB and White Label services as well as many benefits including tight pip fixed spreads, leverage ranging from 1:100 to 1:500 to permit the use of scalping, hedging options and Expert Advisors or robot dealers.
InvestTechFX is a No Dealing Desk (NDD) and Straight Through Processing (STP) Forex company offering an industry leading 0.5 PIP on all 6 majors while trading with the MT4 platform with optional ECN.
In May of 2012 InvestTechFX will be offering some excellent trading bonuses for new account openings. For further details on account groups, spreads and trading options and featured promotions please visit http://www.investtechfx.com.