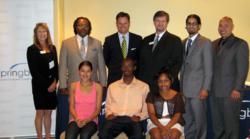 We look forward every year to working with students and teachers on this important learning exercise.
Riverside, CA (PRWEB) May 29, 2012
Springboard Nonprofit Consumer Credit Management, Inc., (Springboard) is pleased to announce the winners of its annual youth poster contest. This is the sixth year that Springboard has sponsored the contest, which provides area students an opportunity to express their creativity while gaining an understanding of important financial concepts. The contest is open to students in 3rd through 12th grade attending public and private schools in Riverside and San Bernardino counties. The theme of this year's contest is, "The Roadmap to Financial Freedom begins with…" The posters were judged on expression of theme, artwork, style, content and overall creativity. The winners were recognized at Springboard's annual luncheon, which includes the students, their parents and teachers, the poster contest judges and members of Springboard's executive team.
"We look forward every year to working with students and teachers on this important learning exercise," said Melinda Opperman, Springboard's senior vice president. "Research indicates that most adults who are successful in managing their money were introduced to financial concepts at an early age," said Opperman.
The poster contest has become a highly anticipated, signature event for the organization. Springboard has received hundreds of entries from area students since the first contest was held in 2006. The purpose of the contest is to introduce young people to the concept of financial literacy, and allow them to express their understanding of it through art. A panel of community stakeholders representing financial institutions, the K-12 school system, and elected officials selected one winner from each of the three grade specific categories. Springboard also recognized one standout entry as its Chairman's Award winner.
Springboard's Youth Financial Literacy Poster Contest winners were recognized at a luncheon held in their honor at the Historic Mission Inn in Riverside. Each winner was presented a trophy, certificate of achievement and a check for $200 from Springboard. In addition, each student received a certificate of recognition from California State Assemblymember Wilmer Amina Carter (D-Rialto). Springboard President and CEO Todd Emerson presided over the awards luncheon.
Springboard congratulates this year's poster contest winners:
12th grade student Phillip Simeon Jackson, Silverado High School, Victorville
7th grade student Henachi Williams, University Heights Middle School, Riverside
4th grade student Robert Serna, North Park Elementary School, San Bernardino
Eight grade student Rosa Hernandez, also of University Heights Middle School, is the recipient of the Chairman's Award.
The winning entries may be viewed online by clicking the following link - http://www.springboard.org/community/gallery/11Postercontest
"We're extremely proud of all the students who participated in this year's contest," said Opperman.
Serving the community this year as Springboard's Youth Financial Literacy Poster Contest distinguished panel of judges are:
Raúl Bustillos, Bank of America
Marcelino Serna, San Bernardino City Unified School District
Kathy Gault – Arrowhead Credit Union
Adάn Gomez – California State Assemblymember Wilmer Amina Carter's Office
About Springboard Nonprofit Consumer Credit Management
SPRINGBOARD® Nonprofit Consumer Credit Management is a 501(c)(3) nonprofit personal financial education and counseling organization founded in 1974. Springboard is a HUD-approved housing counseling agency and a member of the National Foundation for Credit Counseling, a national organization of nonprofit credit counseling agencies, and a member of the Association of Independent Credit Counseling Agencies. The agency offers personal financial education and assistance with credit counseling, housing counseling, debt and money management through educational programs and confidential counseling. Springboard is accredited by the Council on Accreditation, signifying the highest standards for agency governance, fiscal integrity, counselor certification and service delivery policies. The agency provides pre-bankruptcy counseling and debtor education as mandated by the bankruptcy reform law. The agency offers nationwide phone counseling services and has locations in California, Arizona, Nevada, New Mexico, Texas, South Carolina and Massachusetts for in-person counseling sessions. Not all types of counseling are available in-person at all locations, please call for details. For more information on Springboard, call 800.449.9818 or visit their web site at http://www.credit.org.