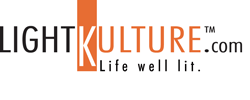 We were pleasantly surprised when we tested the light output of the Pixo lamp!
Sarasota, FL (PRWEB) May 25, 2012
LightKulture.com, a leading distributor of energy efficient, eco-friendly contemporary lighting, is proud to announce new introductions from Pablo Designs of San Francisco, including new Pixo Energy Efficient LED lamps. Pablo Designs' new dimmable LED Pixo desk lamps combine the beauty and simplicity of personal LED lighting to any work space.
"We were pleasantly surprised when we tested the light output of the Pixo lamp. At 5 watts and 3300 Kelvin, this lamp added a lot of light to my work surface, but took up very little space on my desk", noted Susan Inderbinen, President of LightKulture.com. "We tested the Pixo in the new soft-touch black finish, it has a soft, rubberized feel to it. The one-touch dimmer effortlessly fades the light level from high, to low, to off. The fact that this lamp also has a USB port to charge a cell phone or iPad is really handy. Now my phone stays charged and I have more light, all in a very small footprint."
For more information, go to -

Pablo Designs of San Francisco newest introductions now at LightKulture.com
Carried by LightKulture.com, the latest introduction in LED task lighting is Pixo by Pablo Designs of San Francisco, the smallest, most personal LED light ever. Weighing in at just 2 lbs and 15" tall, Pixo is perfectly suited for tight quarters, providing effortless adjustment and fully dimmable light control. Its surprisingly bright and warm LED light is the brightest in its category and exceeds a 25 year light span. Pixo is the embodiment of "less is more".
Pablo was founded in 1993 by Venezuelan born industrial designer Pablo Pardo. Pardo frequently challenges traditional design metaphors developing more practical solutions that are free of decorative elements. A common thread links all of its creations valuing performance and sustainability, discarding the disposable mind-set so common today.
"Since my niece is graduating high school this month, I thought the gloss white Pixo lamp would be a great graduation gift, something a college student would appreciate. My husband also made a point to suggest that the silver one would make a great Father's Day gift, a convenient reminder" noted Susan.
About LightKulture.com
At LightKulture.com, our mission is to offer the finest energy efficient contemporary lighting and light fixtures available from around the world. We have assembled an exciting collection of the industry's most innovative decorative and architectural lighting. We are proud to offer lighting solutions for both your home and work- life environments. Simplicity in design is complicated, function makes it last. Be inspired by our range of essential designs from well respected American and European manufacturers. In today's world, energy efficient lighting is as important as eco-friendly or green lighting fixtures, such as LED or CFL lighting. We offer the very best energy efficient lighting and light fixtures, both high value LED lighting fixtures and CFL lighting fixtures in modern and contemporary styles that provide quality, innovation and authenticity.
Contact Information
LightKulture.com
http://www.lightkulture.com/
Email. sales(at)lightkulture(dot)com
Tel. 941-330 0422