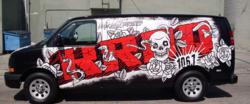 Los Angeles, CA (PRWEB) May 25, 2012
Arete Digital Imaging (ADI) has established itself as the leading Los Angeles car wrap company in less than a decade. Founded in 2005 by Tony Jollett, the company was named after the Greek word for virtue. The word "arete," in its basic sense, means excellence. Which is the guiding force in the pursuit to be always be the top service provider for the industry in Los Angeles.
ADI has become the preferred company by small businesses and corporations alike. It has provided vehicle wraps for top companies like Azteca Mobile, BMW, Dole, EMI, ESPN, E! Channel, Fender, Ford, Lexus, Lionsgate, NBA, NFL, Disney, The Coffee Bean & Tea Leaf, 20th Century Fox, and the National Guard among others .
"Our track record speaks for itself. We treat our latest project the same way we handled the first one seven years ago – with an eye for detail, a premium on quality, and the client's satisfaction in mind. Arete Digital Imaging considers vehicle wraps as works of art, with cars, buses, trucks, vans, and anything on wheels as our medium. We will continue working with the same dedication and passion that we have shown since day one," said Jollett.
This year alone the company has applied graphics to over 250 vehicles from full custom car wraps to van decals and truck graphics .
Cost-effective mobile outdoor signage allows companies hit by the economic recession to still maintain an advertising presence. Advertising using vehicle wraps cost less than advertisements placed on billboards, print media, radio, and television in terms of cost per thousand impressions (CPM). "Vehicle wraps are here to stay. People are always on the road either as drivers or passengers and they will notice ads placed on vehicles, which are like commercials that appear out of nowhere," said Jollett.
In an effort to maintain its status as the industry leader in Los Angeles and at the same time, do its part to help conserve the environment, ADI recently purchased new eco-friendly latex printers which offer photographic quality prints, boost productivity, and improve production turnaround time while reducing the environmental impact of printing.
For more information about car wraps and other vehicle graphics, feel free to explore Aretedi.com or call (+323) 464.4828 (telephone) for a free consultation and a no obligation price quote.
About Arete Digital Imaging:
Arete Digital Imaging (ADI) is a full-service commercial large format printing and graphic design company based in Los Angeles. Arete, a Greek word which means goodness, excellence, or virtue, reflects the company's creed of "being the best that one can be." This is exemplified in ADI's dedication to providing high quality and cost effective printing solutions for small business and corporate clientele nationwide. ADI's repertoire of offerings include vehicle wraps, truck side graphics, motorcycle wraps, banners, billboards, murals, exhibit/trade show displays, prepress services, production, digital printing, full color offset printing services, and more.
Contact:
Arete Digital Imaging
913 N. Highland Avenue, Los Angeles, CA 90038
(323) 464-4828 ‎
http://www.aretedi.com