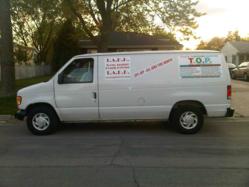 Despite the best efforts of school administrators and even the very best driver education programs, with limited experience and immature judgment, young adults are the most vulnerable age group for accidents, stated W. M. Piecuch, Jr., Founder of TADD
La Grange, IL (PRWEB) May 25, 2012
Teens Against Drunk Driving (T.A.D.D.) http://www.teensagainstdrunkdriving.org is a registered 501c3 charity, that educates youths against the dangers of drunk and distracted driving.
Recently, T.A.D.D. has launched a pilot program for 2012, entitled T.O.P painting and power washing. T.O.P. is an acronym for T.A.D.D.'S outstanding painting and power washing. One Hundred (100%) of all profits benefit T.A.D.D.'S "Turn on to Safe Driving-I can't be DEAD, I'm only 17" daily planner and study guide.
The "Turn on to Safe Driving" theme is a positive and ongoing means to emphasize the responsibility that young drivers should have for safe driving for themselves, for their passengers and for other drivers as well as pedestrians with whom they share the road. It also demonstrates to the parents the importance with which the school regards the safety of their children.
All of our planners have been designed with extensive input from many experienced educators, nonprofit organizations, Government officials and private companies whose focus is dealing with the Safety issues relative to teens and driving. Planners offer a variety of useful information... a reference tool; punctuation rules, points of grammar, common formulas and terms, fractions/decimals & percent . . . integrated with the functionality so popular among students!
We at T.A.D.D. believe it is an American tragedy that more than 30,000 people will lose their lives in traffic accidents this year. Approximately 17,000 of those people will be under the age of 21. In addition, nearly half of all deaths of teenagers, 16-19 years old is the result of car crashes. This age group (8% of the U.S. population) sustained 17% of all car related deaths in 2010! These alarming statistics indicate that we need to get the facts in front of "our" teenagers! In many cases, these are accidents which all too often, can be avoided. Regrettably, because of state and national cutbacks in funding, there is not enough being done to educate our young drivers.
Despite the best efforts of school administrators and even the very best driver education programs, with limited experience and immature judgment, young adults are the most vulnerable age group for accidents, stated William M. Piecuch, Jr., Founder and President of Teens Against Drunk Driving (T.A.D.D.) http://www.teensagainstdrunkdriving.org.
Alcohol and Youth Facts:
Alcohol is a leading cause of death among youth, particularly teenagers. It contributes substantially to adolescent motor vehicles crashes, other traumatic injuries, suicide, date rape, and family and school problems.
Every day, on average, 11,318 American youth (12 to 20 years of age) try alcohol for the first time, compared with 6,488 for marijuana, 2,786 for cocaine; and 386 for heroin.
Alcohol is by far the most used and abused drug among America's teenagers. According to a national survey, nearly one third (31.5%) of all high school students reported hazardous drinking (5+ drinks in one setting) during the 30 days preceding the survey.
Children who are drinking alcohol by 7th grade are more likely to report academic problems, substance use, and delinquent behavior in both middle school and high school. By young adulthood, early alcohol use was associated with employment problems, other substance abuse, criminal and other violent behavior.
Young people who begin drinking before age 15 are four times more likely to develop alcoholism than those who begin drinking at 21.
More than 1,700 college students in the U.S. are killed each year-about 4.65 a day—as a result of alcohol related injuries.
Did you know?
Alcohol is a drug. It alters your mind, body and emotions. It is also our nation's largest youth drug problem, killing 6.5 times as many young people as all illicit drugs combined.